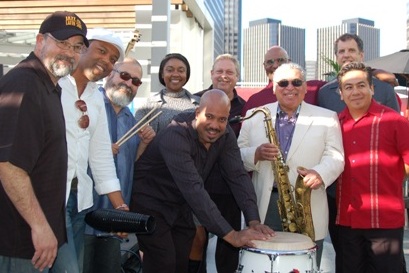 Bandleader Jose Rizo (pictured far left, black cap) and his new nine-piece band, Mongorama, pay tribute to Latin jazz and conga legend Mongo Santamaria as they headline a free concert hosted by the Playboy Jazz Festival on the patio at the Beverly Hills Civic Center on Sunday, May 6.
The Beverly Hills High School Jazz Band will open the show starting at 3:30 p.m.
The performances are part of Playboy's free community concert series held in conjunction with the upcoming 34th annual Playboy Jazz Festival June 16-17 at the Hollywood Bowl.
Led by Rizo, music director for noted L.A. jazz station KKJZ-FM at 88.1 and bandleader of the popular Jazz on the Latin Side All Stars, Mongorama will celebrate Santamaria's rich musical legacy by playing much of his early charanga-jazz material from the 1950s and '60s. Their set will feature many of the original compositions Santamaria was famous for, including "Bacoso," "QueMaravilloso," "Las Guajiras" and more salsa that swings.
Under the direction of Bill Bradbury, the Beverly Hills High band will perform a selection of music representing various styles of jazz, including blues, swing, rock and Latin.
"The Beverly Hills High School Jazz Band reflects the style and diversity of jazz itself," Bradbury said. "We are all excited to be part of this meaningful musical event in our community."
"Our Beverly Hills concert has become a popular kickoff for the annual Playboy Jazz Festival season," said Richard Rosenzweig, president emeritus of the Playboy Jazz Festival. "This year's roster of talent promises a lively afternoon of upbeat jazz entertainment at the Civic Center's attractive outdoor performing arts venue in celebration of our 34th Festival."
Food and refreshments will be available for purchase; glass containers, alcoholic beverages and audio/video recorders are not permitted. Two free hours of parking are available at the Beverly Hills Civic Center parking structure, adjacent to the Beverly Hills Public Library.
The Civic Center is located at 450 North Rexford Drive, Beverly Hills 90210, between Santa Monica Boulevard and Burton Way.
For more information about the Playboy Jazz community concert series or the festival, visit www.playboyjazzfestival.com.
Check out the Peeples Place festival preview.