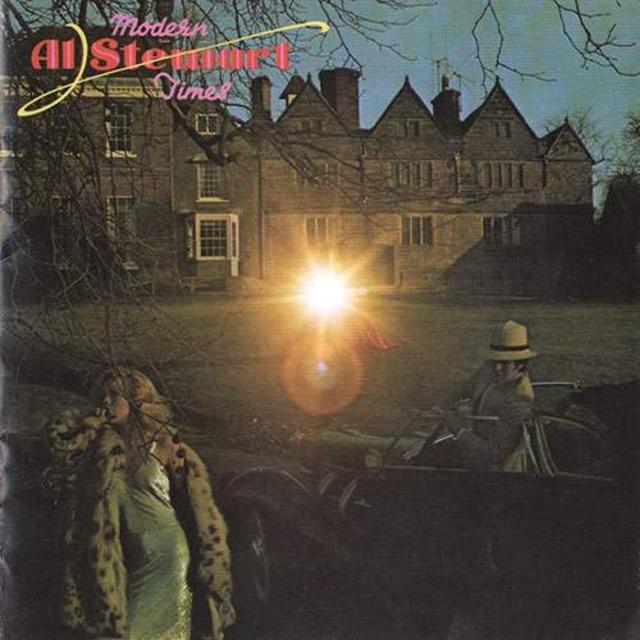 The following is the set of liner notes written by Stephen K. Peeples in 1992 for Rhino Entertainment's CD reissue of Modern Times, the sixth album by British folk-rock singer/songwriter Al Stewart, originally released in the U.K. by CBS and by Janus in the U.S. in 1975, preceding 1976's Year of the Cat.
The Modern Times Background
"At the time [1975], I thought it was amazing that Modern Times made the Top 30 not only in America but in New Musical Express and Melody Maker in the U.K. as well," says renowned British singer/songwriter and guitarist Al Stewart today [1992]. "And in retrospect, it's even more amazing!"
Produced by Alan Parsons and issued by CBS in Britain and Janus in the States, Stewart's sixth album followed the epochal Past, Present And Future (out on the same labels in '73 and '74), his initial foray into historical folk-rock. And Modern Times was the precursor to 1976's Year Of The Cat, his multi-platinum breakthrough to the big time.
Born September 5, 1945, in Glasgow, Scotland, and raised in the town of Bournemouth, on the south English coast, Stewart had come up through the London folk and folk-rock scene during the mid-1960s. Duane Eddy, Bob Dylan, and existentialist writers including Jean-Paul Sartre and Albert Camus were among his inspirations.
Stewart's first four LPs — Bedsitter Images (1967), Love Chronicles (1969, and Melody Maker's "Folk Album of the Year"), Zero She Flies (1970), and Orange (1972), all on CBS in the U.K. — had primarily featured first-person love songs and confessionals in the grand folk-rock tradition. They earned for the well-read Stewart a reputation as the most literate writer in contemporary British pop.
But Stewart altered his course considerably with PP&F, steering around first-person songs of unrequited love and angst and heading into the uncharted waters of narratives based on famous people and great events in history. He merged his gift for vivid lyric imagery with rich, mostly acoustic folk-rock instrumentation and dramatic arrangements, bringing these stories to life. Cinematic, wide-screen music that connected with the mind as well as the body — this was a specialized genre that Stewart all but defined with PP&F.
The album was well-received by critics and fans alike in Britain. It also served as his first U.S. release, though it appeared a year later, when the relatively small but enthusiastic Janus label issued it to coincide with Stewart's first major American club and college tour.
PP&F rose to #133 on the Billboard charts in mid-'74 — it had no singles and little airplay, but succeeded thanks to growing interest in Stewart among critics and fans who saw him perform songs like "Roads to Moscow" and "Nostradamus" live (which on later tours were accompanied by memorable slide presentations put together by his manager, Luke O'Reilly).
An auspicious international debut, the LP is now considered a cult classic. (Rhino reissued the album in summer 1992, along with Modern Times, which makes its CD debut with this release.)
After winding up that first trek across the States, Stewart and O'Reilly — an Englishman who'd earned fame as a DJ on Philadelphia's WMMR-FM — took a reading. They sussed what had worked and what hadn't, and decided to make a couple of mid-course corrections on the next album.
For Modern Times, Stewart continued writing "at an arm's length" as he put it then, about people, places, and events outside his own experience. But there were at least two major differences: His new songs were shorter, and the album's production was scaled back considerably from PP&F's epic proportions.
"My records were hardly played in England," he explained at the time. "They'd want to play something like 'Roads to Moscow,' but couldn't because it was eight minutes long. Some progressive American stations, though, like WNEW-FM in New York and WMMR in Philadelphia, would pick up the longer pieces, and that's why I was more popular in places like those earlier on.
"Being on American radio, Luke had always heard the folk-rock sound as bass, drums, keyboards, guitars, and lots of electric lead guitar. And Modern Times followed that philosophy. We wanted to make a folk-rock record, with fewer musicians and less production, to make it more accessible. So there was a very conscious effort to make the songs shorter and more rock 'n' roll."
The Modern Times Sessions
In April '92, Stewart took time between rehearsals for yet another series of concerts with longtime guitar partner Peter White (as documented by Al's 13th and most recent album (not counting best-ofs), February 1992's live Rhymes In Rooms, on Mesa/Rhino) to reminisce about Modern Times, recorded 17 years earlier at Abbey Road Studios in London.
"I met [producer] Alan [Parsons] in a restaurant. He was an engineer at Abbey Road studios [The Beatles aka The White Album, LP's by Wings, Pink Floyd's Dark Side Of The Moon], and said he was interested in producing records. [Parsons would also soon debut as a performer with The Alan Parsons Project.]
"Since John Anthony [Orange and PP&F producer] had gone off to do something else, I asked Alan, 'Well, how would you like to produce one for me?' And he said, 'Yes.' Five seconds later, we were talking about something else. It was that quick. Eventually, he rounded up some people, and we went in and did it.
"Of the key musicians, Dave Ellis played acoustic guitar on 'Next Time.' Simon Nicol, of course, was from [legendary British folk-rock group] Fairport Convention. Tim Renwick and members of his [pub-rock] band Quiver were on Orange as well as PP&F. His guitar style is almost ideal for folk-rock, and I think this album is his finest moment of any of my albums.
"[Keyboardist] Pete Wingfield soon had his own hit single in America with 'Eighteen With A Bullet' [#15, fall 1975]. Peter Wood was on Orange, too. He was in Quiver with Iain and Gavin Sutherland, and later co-wrote 'Year of the Cat' with me. Peter was on several things here.
"George Ford means a lot more to oldies freaks in England — his brother, Emile Ford, and his group The Checkmates had several huge hits in the early '60s. They were absolutely enormous. George was The Checkmates' bass player, age 17 at the time. I didn't find any of this out till we did Modern Times.
"Barry De Souza was a fairly well-known session drummer, and Gerry Conway was in [seminal British folk-rock group] Fotheringay with Sandy Denny, Trevor Lucas, and Jerry Donahue. Gerry later worked for Cat Stevens and Jethro Tull and did a tour with me.
"Isaac Guillory played guitar on 'What's Going On?'; he's the Cuban-American I met in Amsterdam who was on 'Roads to Moscow' [PP&F]. And Graham Smith was a harmonica player from the early British folk scene; he's done quite a lot of live work with me over the years."
The Modern Times Tracks 
"CAROL" — "Anytime you're in a dark club and you see a girl dressed all in black, wearing lots of black eye shadow and a very moody expression on her face, which is mostly covered by her hair…she's probably a 'Carol.' I suppose everybody's known someone like her. This is one of the few 'girl songs' I've ever written that isn't about one person. It's a composite of, I think, two people.
"'Carol' was definitely a shot at a single. It was actually put out twice in England but didn't do anything. Still, it's a very popular song there — people ask me for it all the time. I love Tim's guitar solo at the end."
"SIRENS OF TITAN" — "I adored Kurt Vonnegut, and Slaughterhouse-Five and The Sirens of Titan are his best books, so I decided to put Sirens into a song. The line 'I was the victim of a series of accidents' comes from the book. There's also a bit of Procol Harum's 'Conquistador' in the arrangement."
"WHAT'S GOING ON?" — "Isaac [Guillory] played very Latin-y, slightly jazzy acoustic guitar — still does for that matter. 'What's Going On" is based around the first four chords that I'm playing, the rhythm part. I was just jamming on those and Isaac was playing along. And because it was such a nice rhythm, it evolved into a song.
"Unlike everything else on the album, this track was done live in the studio, with everyone playing at once — no overdubs, apart from the electric guitar solo. There was a microphone lowered from the ceiling, and we just all sat around the studio and played. It went on for maybe 15 minutes, long after the fade.
"The song's about someone I knew. At the time he was lead singer of a band, but he'd been an old, old friend I'd known since he was a tie salesman. He's gone on to become quite a well-known actor in America, actually."
"NOT THE ONE" — "This evolved because I really liked the first two lines, but unfortunately, I never really got it back after that. 'The kind of grey November day that washes away reflections in the eyes of hotel porters and the Irish lady authors' — those first two lines were so good I assumed that the rest of it would be, too. But I never captured anything as good as that in the rest of the song. It has a nice Fender Rhodes keyboard part, too."
"NEXT TIME" — As I go through these tracks now, 17 years later, I'm realizing how many different influences came out. I grew up watching [legendary British folk guitarist] Bert Jansch and John Renbourn. But I'd never actually done a two-acoustic-guitar sort of thing, the way that Bert and John used to play. So I got together with Dave Elli, and we went for that acoustic, bluesy, Bert-and-John vibe."
"APPLE CIDER RE-CONSTITUTION" — Here's a straightforward, what you might call classic American folk-rock song as played by an English person — 'folk-rock as it am played,' so to speak — with my favorite Tim Renwick solo. The Eagles could have done this. Apart from some vague memories of the deserted railway station near the little village where I grew up, there's nothing personal about the story — it's all just stream of consciousness."
"THE DARK AND THE ROLLING SEA" — "That's my favorite song from the album, because it's a thinly disguised love/hate song, with wonderful imagery. It seems that my favorites usually have something to do with the sea. On PP&F, it was 'Old Admirals.' On Year of the Cat, it would be 'Lord Grenville.' I just like all the seafaring songs, something I share with Sandy Denny [Fotheringay, Fairport Convention].
"'The Dark And The Rolling Sea' was interesting to record because when we were jamming on it, Simon [Nicol] and I were both playing acoustic guitars and Tim was playing electric. And before the rhythm section came in, as we were just running through the song, it sounded absolutely delightful just on three guitars. I was tempted to record it that way, but we ended up doing it the way you hear it."
"MODERN TIMES" — This had originally been a song by Dave Mudge, a sort of itinerant gypsy folksinger. He'd written the tune — I don't even remember what it was called. And I rewrote just about all the lyrics, apart from the 'lowly, lowly low,' which I think was in his original.
"The story's about the free spirit who hit the road with his canvas sack and his Kerouac, on a quest for the ultimate truth. But he became disillusioned, and wanted no part of these modern times. Sort of like Kerouac's own story, in a way.
"I think that kind of thing happened to lots of people who grew up in the '50s and'60s. By the time Modern Times was made in '75, there were some lost, disappointed souls out there. Many people who a decade earlier had thrown themselves into being transcendental, ascetic, wandering free spirits were getting to the point where an actual bed, rather than a sleeping bag, was something they aspired to, but no longer quite knew how to achieve. The dream wasn't only not working — the dream was over, to paraphrase John Lennon ["God," John Lennon/Plastic Ono Band, 1970].
"There are any number of puns going on here. First of all, there was Charlie Chaplin's 1936 film Modern Times. The political/ literary magazine Jean-Paul Sartre edited in Paris was called Les Temps Modernes. And of course, there really are no such things as 'Modern Times': Modernity exists only in a contemporary sense.
"That's Tim Renwick again on lead guitar. And the strings were arranged by Andrew Powell, who would do the same on Year Of The Cat and then Time Passages. I'm almost sure this was the first time I worked with Andrew. And it's quite remarkable that we stayed good friends after what happened with this track.
"He'd worked out this crashing great orchestral part — just thunderous. And I was there when it was all recorded. It was going to be all orchestra with a guitar far in the background. But when we came to mix it, largely because of my devotion to Tim Renwick, I turned the orchestra down much lower than even Alan Parsons wanted it, and turned up Tim's guitar much higher. It just reversed the whole polarity.
"Andrew was horrified when he heard the playback. 'Where's my string arrangement?' he howled. But in fact, I liked it better this way. The other way would have been far too overbearing."
Coda
"I usually think of my first four albums as my apprenticeship, and Past, Present And Future as the first one I'd really own up to, but Modern Times is such a ripoff!" Stewart laughs. "I hadn't realized how much I was influenced by all those other people. Looking back at it, coming off of PP&F, which was almost completely me, Modern Times reflected all the influences I hadn't been able to use on the one before. I just stuck them all on this one.
"Modern Times was my sixth and last album for CBS in England, under an original three-year contract that was renewed for another three. The album's success was startling, yes. It just took off from where PP&F had left off. But even more surprising was the fact that CBS didn't want to re-sign me. Oh, they admitted I'd made money for them — just not as much as The Wombles, so they weren't really interested.
"I went into [Virgin Records founder] Richard Branson's office, and we sat there looking at all the charts Modern Times was on. Right then, I offered him my next album for $5,000, but he turned it down. He said he didn't think I was commercial enough. That was a big surprise.
"And as it happened, just about everybody else passed as well, which is how the next one wound up on RCA in Britain. [In the States, Stewart stuck with Janus, which had done quite well with PP&F and Modern Times.] RCA signed me quite reluctantly, in fact.
"After all that, I sat down with Luke O'Reilly to work out what approach to take for that next album, musically speaking. And we were very clear in our own minds that we wanted to blend the best parts of each—the historical lyrics of PP&F with the more commercial folk-rock sound of Modern Times.
"While those elements were kept separate on those two albums, by combining them, we made the album we couldn't give away — and that, of course, was Year Of The Cat."
• Stephen K. Peeples
Special thanks from the author to Al Stewart, Steve Chapman, Bonnie Covelli, James Austin, Michael Ochs, Carol Forsell, David Dash, and Reina Siciliano. Special thanks also to Rory Aronsky.
---
Grammy nominee Stephen K. Peeples is a multi-media writer-producer who was raised by career newspaper journalists and music-lovers in Miami and Los Angeles. He earned a Grammy nomination as co-producer of the "Monterey International Pop Festival" box set with Lou Adler and Geoff Gans (Rhino/MIPF, 1992); Peeples also wrote the liner notes booklet. Over the years, he has written liner notes for nearly a dozen more albums, including "Les Paul: The Legend & The Legacy," Capitol Records' acclaimed 4-CD box set (1991), and most recently, "Silver Raven" by the Kai Clark Band (2020). • Peeples was the original, award-winning writer/producer of "The Lost Lennon Tapes" radio series for Westwood One from 1988-1990, and writer/producer of hundreds of WW1 programs in the preceding five years. • His first music industry gig was as an Associate Editor (radio and West Coast country) at Cash Box magazine in Hollywood in 1975. He went on to be a Media Relations-PR executive for Capitol Records (1977-1980), Elektra/Asylum Records (1980-1983), and Rhino Entertainment (1992-1998). • Moving into the Digital Era, Peeples was Rhino's first web editor (1996-1998), then elevated to content editor of Warner Music Group websites (1998-2001). • Based in the Santa Clarita Valley just north of L.A., Peeples was the award-winning Online Editor for The Signal newspaper's website from 2007-2011, and wrote-hosted-co-produced SCVTV's WAVE-nominated "House Blend" local music TV show from 2010-2015 (archived online and still airing in reruns). • The Santa Clarita journalist is now a News Editor at SCVTV's SCVNews.com, SVP/New Media for Rare Cool Stuff Unltd. and developing a biography of notorious Texas Artlaw Boyd Elder. • For more info and original stories, visit https://stephenkpeeples.com/. For exclusive behind-the-scenes interviews, subscribe to Peeples' YouTube channel.
---
Article: Al Stewart: 'Modern Times' – Liner Notes, 1992 Reissue
Author: Stephen K. Peeples
Category: News and Reviews
Article Source: StephenKPeeples.com