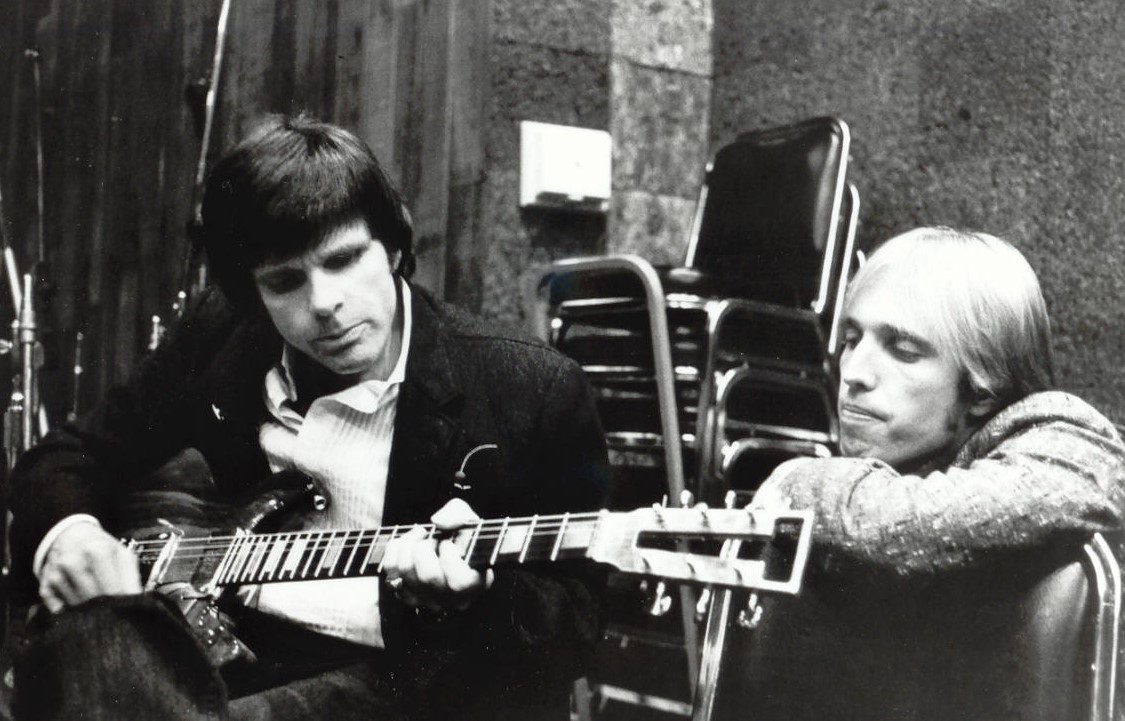 Rock 'n' Roll Hall of Fame member Del Shannon of "Runaway," "Hats Off to Larry" and "Little Town Flirt" renown in the early '60s – and the first American artist to cover and chart with a Lennon-McCartney song when he recorded "From Me to You" in 1963 – had been off the charts for several years by the late 1970s.
That's when Shannon connected with rising star Tom Petty in Los Angeles to record Shannon's much-anticipated comeback album, "Drop Down and Get Me," released after much delay in late 1981, on Network Records. The new imprint was headed by former Capitol Records and RSO Records exec Al Coury, and distributed by Elektra/Asylum (and by extension, WEA).
That May, Shannon sat down for an extensive pre-release phone interview about "Drop Down and Get Me" with then-E/A Editorial Director Stephen K. Peeples, also an L.A. music journalist and longtime Shannon fan.
Portions of the interview were published in the press kit Peeples later prepared to be sent by E/A to U.S. record reviewers along with promo copies of the LP.
Now, for the first time, the audio of the entire 1981 interview has been published in a five-part series posted on Peeples' YouTube channel, joining dozens of other recent and archival interviews.
Among other things, Shannon recounts how he and Petty connected in 1978 (via an L.A. rock journalist who was also a fan); how the sessions went with Petty producing and assorted Heartbreakers playing on them; Shannon's comments on each of the tracks; why the album took three years to get done; why Network was not the original label planning to release it; his plans to assemble a band for a spring tour to support the album.
Sax player Marty Jourard of The Motels contributed the solo on the "Drop Down…" track "Midnight Train" at Petty's invitation, and has fond memories of his session with Del.
"The recording session at Cherokee Studios was easy — all I had to do was copy Del's previously recorded idea for the sax solo note-for-note," Jourard said in a note in December 2016. "You can hear Del's sung version of the solo faintly in the final mix."
Jourard recalls Petty played a special role producing that session.
"One of the recording engineers was trying to leave to catch a plane," he said, "so Petty kept covering up the clock on the recording console so he wouldn't notice the time."
Several months later, when Shannon performed at the Country Club in Reseda (suburban Los Angeles), Petty joined him for a few tunes, as did Jourard, who played his solo on "Midnight Train" live.
"During sound check, I handed him my 'Del Shannon's Greatest Hits' album," Jourard said. "He signed it, 'Marty, Thanks for the great playing on my session…see you again! Your mate, Del Shannon.' It was my pleasure."
"Drop Down and Get Me" hit the Billboard Top 200 album charts December 12, 1981, and peaked at #123 in early 1982, buoyed by the single "Sea of Love," a cover of the 1959 hit by Phil Phillips. Shannon's version peaked at #33 on the Billboard Hot 100.
Shannon worked with Jeff Lynne and Tom Petty later in the '80s, but by early 1990, was despondent. He had recently moved to the Sand Canyon area of Canyon Country, California, just north of Los Angeles, when he shot himself to death on February 8, 1990, at age 55. He was inducted into the Rock 'n' Roll Hall of Fame posthumously in 1999.
Find out lots more about Del Shannon at his official website.
Del Shannon Interview, 'Drop Down and Get Me,' May 1981, Pt. 1/5
Del Shannon Interview, 'Drop Down and Get Me,' May 1981, Pt. 2/5
Del Shannon Interview, 'Drop Down and Get Me,' May 1981, Pt. 3/5
Del Shannon Interview 'Drop Down and Get Me,' May 1981, Pt. 4/5
Del Shannon Interview 'Drop Down and Get Me,' May 1981, Pt. 5/5
---
Santa Clarita journalist Stephen K. Peeples is a Grammy-nominated record producer ("Monterey International Pop Festival," MIPF/Rhino, 1992), a veteran record industry media relations executive (Capitol Records, Elektra/Asylum Records, Westwood One, Rhino Entertainment, 1977-1998) and website content manager (Warner New Media, 1998-2001). Peeples was the original, award-winning producer of "The Lost Lennon Tapes" radio series for the Westwood One Radio Network from 1988-1990. He was music and entertainment features writer/columnist for the Santa Clarita Valley Signal (2004-2011), and The Signal's award-winning online editor (2007-2011). He wrote news and features for Santa Clarita's KHTS-AM 1220 News (www.hometownstation.com) and SCVNews.com (2011-2016), and hosted, wrote and co-produced the WAVE-nominated "House Blend" music and interview show on SCV community TV station SCVTV (2010-2015). Peeples was also Vice President/New Media & Editorial with Los Angeles-based multimedia pop culture company Rare Cool Stuff Unltd. (2010-2016). In 2015, he co-founded Pet Me Happy Treats. For more information, email skp (at) stephenkpeeples.com or visit https://stephenkpeeples.com.
---
Article: Del Shannon on Tom Petty, 'Drop Down and Get Me'
Category: News & Reviews
Author: Stephen K. Peeples
Article Source: StephenKPeeples.com