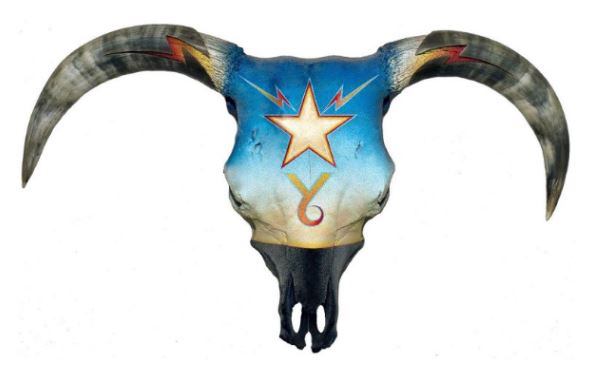 Actor Jensen Ackles Adds Storied Bull Skull Art Piece to his Texas Art Collection
The saga of "Y6 Sunrise" reads like a sci-fi script: An otherworldly looking art piece – a storied West Texas Hereford bull skull painted by near-mythical Lone Star multi-media artist and raconteur Boyd Elder – survives a harrowing, decades-long journey to hell and back.
Miraculously, the piece lands back safely in the Lone Star State, then winds up the centerpiece in the new Austin-area home of Jensen Ackles, the Dallas-born "Supernatural" TV series star and Texas art collector who grew up in nearby Richmond.
"Y6 Sunrise" was the centerpiece of Elder's "4×4" exhibit at the Bale Creek Allen Gallery in Austin in mid-2016, where Ackles and his wife, actor Danneel Ackles, originally from Lafayette, Louisiana, first saw the piece on display.
The Ackleses were decorating their newly remodeled home with iconic Texas imagery and agreed "Y6 Sunrise" was the piece de resistance. The purchase price remains undisclosed.
The painted and adorned skull of a West Texas Hereford bull that sired large herds of prized livestock in its time, "Y6 Sunrise" is one of the "skulptures" Elder created in the 1970s, in a series he calls "American Fetish – RIP."
Three other skulls in the series graced the covers of multi-million-selling albums by musical group the Eagles: "One of These Nights" in 1975;  "Their Greatest Hits – 1971-1975" in 1976 (the best-selling album of the 20th century and all-time in the U.S.); and "The Very Best of…" in 2003.
Millions of people worldwide are familiar with those images, even if they don't know Elder by name. As writer Sterry Butcher put it in February 2018's Texas Monthly feature, Elder's sold more art than Picasso, and is the "most famous artist you have never heard of."
Ackles is far better-known, especially to TV viewers worldwide. Son of actor Alan Ackles, Jensen's enjoyed an award-winning career in film and TV for more than two decades. For the past 13 seasons, as a co-star of the CW's runaway hit series "Supernatural," he's played Dean Winchester, who partners with his brother Sam (Jared Padalecki) to hunt down and vanquish all manner of heinous demons and supernatural creatures (notwithstanding the occasional Nephilim locator spell).
Ackles met Danneel Harris when they both appeared in the indie film "Ten Inch Hero" in 2007. She was already a rising star with starring roles in the "Harold & Kumar" films and a long-running role as Rachel Gatina on "One Tree Hill." The couple married in May 2010 and have three children.
Fans of both Ackles have long urged producers to cast Danneel in "Supernatural," and the planets finally lined up this season. She made her series debut Thursday, February 8, in the episode titled "Devil's Bargain" (Season 13, Episode 13). It was the first of a few episodes in which she played supernatural faith healer Sister Jo.
In other recent Ackles news, Danneel and Jensen, along with her brother Gino Graul, celebrated the grand opening of the Family Brewing Company, their new craft brewery and tasting room at 19510 Hamilton Pool Rd., just outside of the Austin city limits in Dripping Springs, on January 10.
A 'Supernatural' Jensen Ackles Q&A About 'Y6 Sunrise'
Jensen Ackles returned a call on a break between shooting scenes in Canada for the current season of "Supernatural" to talk about Boyd Elder's painted bull skull "Y6 Sunrise."
Stephen K. Peeples: I understand that when you and Danneel moved to Austin in 2016, you wanted to dress the house in a certain way. What was your concept?
Jensen Ackles: We did a big remodel. The house hadn't really been updated since the late '90s, so we took the whole thing down to the studs and built it back up with a perfect blend of my wife's and my styles.
It was actually Danneel's idea to create what she referred to as "Laurel Canyon in the 1960s." She's always been drawn to that style as visitors can see from the many books in our house depicting that time and place. We worked with a fantastic interior designer, Fern Santini, who helped us achieve that.
We wanted to choose art that spoke to both Danneel and me as well. So, we put up a couple of really cool pieces in the dining room area, and it just started to happen organically.
We were coming across pieces by a lot of homegrown Texas-based artists. Some friends of mine who live in Austin – Steve and Lana Carlson – are art curators and dealers. I've known Steve a long, long time, and Steve knows Bale very well. Steve mentioned a Boyd Elder (piece) had surfaced. When he told me which one and said it was available at his buddy Bale's gallery, I immediately said I wanted to go see it.
I think everybody is familiar with that series of work from Boyd, from the covers of the Eagles albums to just the stories about him. And "Y6 Sunrise" is not just a piece of art. It's also a piece of Texas history and a piece of rock 'n' roll history. It represented several things I'm interested in and feel drawn to.
I looked at my wife and said, "We've got to get this." We were super-excited.
We have this room in the house the previous owner used as a trophy room. I guess he was a big hunter and went all over the world, hunted a bunch of animals and so, he had this room as his trophy room. Well, I am not much of a hunter, so we cleared all that out, painted the whole room and turned it back into a dining room/family room.
In the center of this room, there's a pretty substantial fireplace that can be seen on both sides, and it seemed like the perfect spot to hang "Y6 Sunrise." It's up and over the mantle of this fireplace, looking over the dining room. It's certainly the piece de resistance in the house.
The dining room table is also Texas-made – that just kind of happened, again, naturally, with the help of Fern. It's a big piece of Texas oak and the chairs are made by Garza Marfa. We're going to have one of Bale's Texas tumbleweeds in the corner opposite Boyd's piece. It will be a nice little Texas room with a lot of history and some really cool art.
Peeples: Great story! You're originally from Dallas…
Ackles: Yeah, I grew up just north of Dallas in Richardson.
Peeples: And you lived in California for some time. What's it like living back in the Lone Star State?
Ackles: It feels good. I wasn't sure if I was going to get a chance to move back. You just never know with the film and entertainment industry. It can be very fickle. I thought I might just have to bite the bullet and be out in California for who knows how long. Fortunately, I was able to land a job that's given me the opportunity to pretty much commute and live anywhere.
When my wife and I had our first child, we said, "Where do we want to raise our family, since we don't have any family out in California?" We've got good friends, but a lot of them had moved on as well, so it was kind of an easy decision to move back to Texas.
I've always loved Austin. It's a little bit slower-paced than Dallas, and we both really wanted to live on a lake. That was a no-brainer. We just packed it up, made the move. It's good to be closer to family. I already had a lot of friends in Austin, so we immediately plugged into the social pipeline, and again, it just feels good to be in a place that represents me more than California did. I love California – it was great to me, I had a good time – but it's certainly nice to be back home.
Peeples: Boyd said he went up to visit you and Danneel at your house after "Y6 Sunrise" was hung, and told you the whole story about the piece.
Ackles: I wish I'd had a video camera or something because hearing the story straight from the source's mouth was pretty awesome.
He told us some of his experiences during that time, and the history of the skull itself – where it was from, how he came to own it, and then, not only about its transition from a bull skull into a piece of art, but also what happened to the piece after that, how far it traveled, how it was (held up for ransom) for many years, how it took more years to get it back, and all of its other travels during the last 40+ years.
It's pretty exceptional to look up and see "Y6 Sunrise" hanging in our house. I think Boyd was stoked to have it back home, hanging over a big fireplace in Texas. That was pretty cool as well.
Peeples: As a friend of Boyd's for 40-some years going back to when he was working on some of those pieces, I can confirm that's totally true. He's happy "Y6 Sunrise" has found a home and seems to be where it belongs, after all its travels and travails. You and Danneel really understand what the piece is, and are treating it as it deserves to be. You're displaying it in such a way that other people will also enjoy it for a long time. That's a great thing for the piece and indirectly, for Boyd.
Ackles: Well, that's awesome! That makes it even sweeter. That he even wanted to meet us – we were just tickled. The fact that we got to speak underneath the piece with the man who created it and get the history was certainly the cherry on top.
'Supernatural' Sidebar
Peeples: Speaking of great experiences, would you mind if I asked a couple of questions about what you're doing right now?
Ackles: Not at all. I'm up in Vancouver shooting the 13th season of "Supernatural." I've been working on that now for more than 12 years and it's afforded me a pretty good life for me and my family. I commute back and forth to Austin frequently throughout the season.
That constant travel – I was doing it anyway when we were in L.A., and that's kind of why I turned to Danneel and said, "We don't have to live in L.A. Maybe we should talk about where we want to raise our family because I can commute anywhere." So I've just continued to do that. It sounds like a lot of travel. Most people would be like, "Oh, my gosh, I don't know how you do it," but it's pretty amazing what you can get used to. I've been doing it for so many years, it's now normal.
Peeples: I must confess I'm not a huge fan of the series, but my wife is. For years, she and I have been watching the show together, with me doing my eye-rolls – you know what I'm talking about.
Ackles: Absolutely!
Peeples: But she is having a great time – loves the storylines, the acting, the characters. So when I told her I'd be speaking with you for a story, she asked me to say hello and tell you what a major fan she is. I appreciate you allowing me to do that.
Ackles: That's very cool. It's great! Even 12 years in, I still am surprised hearing people who watch the show. It's bent the spectrum. I've tried for years to figure out what the demographics are and they constantly surprise me. It's from 12-year olds who weren't even alive when the show started and have binge-watched it to the 70-80-year old grandparents who watch it with their grandchildren and love it. I'm just happy to be a part of something that's gone on this long and had the impact it has.
Peeples: Thirteen seasons – about how many episodes is that?
Ackles: Give or take a few, I think we're somewhere in the neighborhood of about 265 right now. Next season we hit 300, and as of now, it doesn't seem like anyone is ready to throw in the towel.
Peeples: That's a great situation.
Ackles: It's pretty rare!
By the way, thanks for doing this story. I'm happy to be a part of it and it's awesome to have this piece of history hanging in our house.
 * * * * *
Who is 'El Chingadero'?
The casual Eagles fan may not know Boyd Elder by name, but he's well-known among his contemporaries and an icon to younger fans attuned to the rich history of the Texas-SF-LA-NYC art and music scenes of the '60s and '70s.
Nicknamed "El Chingadero" (Tex-Mex slang for "The Fucker"), Elder is originally from the West Texas town of El Paso, born there in 1944. He grew up in El P but spent much time on the family ranch in and near Valentine, a wide spot along U.S. 90 about 155 miles to the south, and about 465 miles west of Austin.
He studied at the El Paso Museum of Art on weeknights and weekends as a young man with noted local artists including Jan Herring and Wiltz Harrison. In high school, he took courses taught by Eugene Thurston and Jeannie Weitz, painted scenery and backdrops for school plays, and created a mural in the cafeteria.
Elder also began experimenting with other non-classical mediums and techniques, including pin-striping of friends' hot rods and motorcycles. Soon he was seeking even more new ways to express his artistic inspirations and decided to devote his life to the pursuit.
By the age of 20, Elder had won 21 Gold Keys and a First Place Gold Medal in the National Scholastic Magazine Art Competitions for creations in various media from 1959-1963.
He received a partial scholarship from the Texas Art Association competition in 1963, and the same year was accepted at both The Art Center School and the Chouinard Art Institute, now part of the California Institute of the Arts in Valencia, California, about 35 miles north of Los Angeles.
He opted for Chouinard, then still headquartered in Downtown Los Angeles, and with the help of four Walt Disney Honorary Scholarships, studied with Phil Lieder and Robert Graham (a Chouinard co-founder). He also held a teaching assistant position as part of his scholarship deal en route to earning a BFA in 1968.
Elder was respected and admired by his mentors as well as peers during his Chouinard years, as the 1960s California art and rock scenes collided and exploded. Among them were Ed Ruscha, Kenny Price, Larry Bell, Billy Al Binkston, Craig Koffman, and Doug Wheeler.
By the time he graduated, Elder and his art were already direct influences on others.
Since those years, Elder has split his time between Texas, California, and Hawaii, always experimenting with new art mediums and displaying his latest works at the occasional special exhibit.
His works range from the "American Fetish – RIP" skull art pieces to experiments with plastics and resins, holographic foil on paper, aluminum, and wood, and the large-format multi-media works he's developing right now.
Elder art has been exhibited nationally for more than five decades, and Elder art graces the galleries of some of the contemporary art world's most diverse and reputable collectors.
Among his more recognizable patrons are Jackson Browne, Dewey Bunnell, Glenn Frey, Rick Griffin, Darryl Hannah, Don Henley, Ron Jacobs, Dr. Marvin Kolpock, Russ Kunkel, Kay Lenz, Jan-Michael Vincent, Joni Mitchell, Elliott Roberts, Stephen Stills, and Ron Stone.
In recent years Elder has become a key figure in the growth of the contemporary art community in Marfa, Texas, about 25 miles southeast of Valentine on U.S. 90.
He's also earned international notoriety as the official representative of the Prada art installation on a desolate stretch of the highway a few miles north of Valentine.
Elder has been profiled by numerous media outlets including NPR, Rocky Mountain Musical Express, Texas Highways, Lonestar Music, and Texas Monthly. The "Supernatural" Wiki fansite has also linked to this story, exposing El Chingadero and his work to yet another huge audience.
A career-spanning coffee-table art book is the works, projected for publication in January 2023.
Boyd Elder Talks About 'Y6 Sunrise' Part 1
The journey of "Y6 Sunrise" from siring herds on West Texas ranches to Jensen and Danneel Ackles' home in the Hill Country near Austin is indeed supernatural. We wrangled a sit-down with Boyd Elder to get the no-bull story on the painted bull skull. He took a break from working on the Elder family's sprawling ranch in Valentine to recount the saga.
Stephen K. Peeples: What inspired "Y6 Sunrise"? When did you start working on it?
Boyd Elder: Late 1970s. Before I painted "One of These Nights" and "Their Greatest Hits," I had done a lot of research into how the Indians painted buffalo skulls for the Sundance ceremony, where they had black and red dots symbolizing hailstones. They pierced their backs and dragged the buffalo skull for the Sundance ceremony. That was the whole inspiration for the series.
After the Eagles covers, I wanted to symbolize the fact that the painted skull is a genre, so I married the painted skull with the canvas, and it became fine art. And there was a whole series of those, including "Murderer," "Lone Star Sunrise" and "Y6 Sunrise."
The actual "Y6 Sunrise" skull came from the Y6 Ranch, which borders our property here in Jeff Davis County and belongs to the Means family. Their ranch stretches from here into Culberson County, the next county over, which are large counties.
That bull was a prized white-faced Hereford. There's a whole history of how the breed got into Texas. It came from Hereford, England, originally, and some of the big families in this area were the ones that got permission to import Herefords into the country at a time when many Texas ranchers wanted to protect their own breeds.
So all that just triggered my vision of the lone Texas star floating over a field, like a sunrise.
I got the bull skull sometime in the mid-'70s from my friend Bodie Means, who lives on the Y6 Ranch. You should talk to him about the bull. I'll give you his number…
* * * * *
Bodie Means Talks About 'Y6 Sunrise'
Stephen K. Peeples: Bodie, Boyd Elder said you could tell me about the bull skull you gave him that became the art piece he calls "Y6 Sunrise."
Bodie Means: Yessir, that bull came from a neighboring ranch owned by the Gearhart family, really good friends of ours, sometime in the mid-'60s. Their ranch is about 80,000 acres, basically across the fence from ours. The Elder family's ranch is over another fence on another side of our ranch.
Y6 Ranch is about 70,000 acres. It's been in the Means family since 1884. I'm 66, and the fourth generation to live and work on it. My kids are the fifth generation. I have two girls who have two kids apiece and then I have a daughter who's 16. And that's a whole other deal (laughs). So that's six generations on our ranch now.
We bought the bull when he was 2 and he came here to my family's ranch. The bull's name? We called him Ben, as I recall, after Mr. Gearhart.
We had the bull till he was about 10-12 years old. Ben stayed here a long time. He was a good-natured kinda guy. Had his own pasture and his own herd of cows, probably like 40, so I guess he appreciated that he didn't have to fight with other bulls over 'em. He took care of 'em all every year. When there's not another bull to deal with, it's no problem for one bull to keep up with that many cows. They don't have to spend a lot of time doin' anything else.
The local ranchers got some of the babies from his herd and that's how the bull extended the Y6 Hereford family tree in West Texas.
Ben died here. 12 years is old for a bull. Boyd had actually seen him when he was alive. After the bull died, I asked Boyd if he wanted the skull. He was doing all those other things at the time, like "One of These Nights."
Yes, I saw "Y6 Sunrise" when Boyd was working on it. Every time I'd go see him, it would be farther along. He bleached it, then put this white stuff on it (Gesso) that sealed it up and made the surface smooth. Then he painted it and put the beads and all the other stuff on it.
It was a real thrill to watch him work on it. If he'd-a left it there, I probably would have hauled it out of there and he'd-a never seen it again (laughs).
* * * * *
Boyd Elder Talks About 'Y6 Sunrise' Part 2
Boyd Elder: After painting "Y6 Sunrise," I attached the bull skull to a painted canvas, and did the same thing with "Murderer." Those were the two major pieces that launched a series. There are numerous pieces where the painted skull meets the painted canvas – again, to take it out of the genre of the painted skull and put it into the fine art category.
And those pieces traveled all over from the late '70s on. They were shown at the Venice Art Walk on the painted canvas. They traveled to San Jose, California, came back, were on display at numerous shows in California and Texas. Then they wound up with a friend of mine named Mike Salisbury in Venice, California. If I'm not mistaken that was probably 1989 or '90.
Stephen K. Peeples: I recall you telling me once that one of the skulls, or both of them, went missing for years, and you had to go through some machinations to get them back.
Elder: Yeah, exactly. The first owner – who will remain Nameless – disassembled the skulls from the canvases. That really aggravated me. He'd built a million-dollar home in Brazil and was shipping all that stuff to Brazil. Then (Brazilian customs officials) wanted money because they realized it was art. So the painted canvases sat on a dock in Brazil, but without the painted skulls. Nameless still had the skulls [in the States].
But then coincidentally he owed a lot of money to Mike Salisbury, my friend in Venice. Nameless had wrapped up the skulls in bubble pack, which is a big no-no because they're covered with glass reflector beads. Then the guy borrowed Mike's truck, and he had the skulls loaded in the back when Mike decided to take his truck back. So Mike kept the skulls as collateral for the money he was owed.
Mike held onto them for 16 years, until I finally convinced him to release them. A close friend of mine, John Thornton, repacked and transported them from Venice to Valentine, and that's how I finally got possession of them again.
Peeples: So, you just got them back a few years ago (we're in early 2018).
Elder: Right. And I didn't bother going back and re-doing the painted canvas behind them because they were quite large, right under 4′ x 8′. What's reflected in the painted skulls is also reflected on the painted canvas.
Peeples: So how did "Y6 Sunrise" wind up hung on Jensen Ackles' fireplace mantel?
Elder: Bale Allen opened a gallery in Austin, and Bale is Terry Allen's son. Terry's an artist, singer-songwriter, a real close friend, like family, from Lovett, Texas. We went to Chouinard together and have remained friends, going all the way back to '63. Bale wanted to do a show of my work, so I prepared aluminum prints of the [first two] Eagles album covers plus those two pieces, "Y6 Sunrise" and "Murderer," in the "4×4" show in summer 2016.
Peeples: You had a chance to meet Jensen Ackles and his wife Danneel and see "Y6 Sunrise" as it was displayed in their house. When I talked with him a few months back, he told me that while you were standing there in front of the piece, telling them the story and the history, he was thinking, "Man, I wish I'd had this on videotape." So, we just got the story. What do you think about "Y6 Sunrise" finally finding a good home?
Elder: It's fantastic. It was just great to go out to their place and be there with Jensen and Danneel and their family. They've got a beautiful home and an outstanding place to mount it.
As you can figure from the "Y6 Sunrise" story, my art travels. It disappears, it reappears. The pieces have some spirits that travel, that like to move around. I think after all the travels and all the places "Y6 Sunrise" has been, Jensen and Danneel are excellent people to own it and their mantle is an excellent location for it to be displayed.
The other thing fantastic about it is that it shows my art has the value it's always had. That's why I'm really picky about who I sell to and who collects my work.
Peeples: What's the story behind "Murderer"? Have you put that on the market?
Elder: "Murderer" is like the mate to "Y6 Sunrise." When the Spanish came in, they brought the longhorn. There was this one big longhorn bull that five or six of these ranchers had roped and each one declared it as his. This goes back to 1906. One of the ranchers shot another rancher, and they buried him on the spot, and they took a branding iron and branded the bull "Murderer."
And nobody would mess with this bull. It was like bad, bad karma. No telling who those ranchers were. The story goes that the bull lived its life out in the mountains near Valentine.
But my piece is based on the story of that murderer bull. It's got a big flaming cross and two snakes that look like rivers running into it. That's the whole theory about the painting, too. So "Murderer" is also a real monumental piece in that series.
It's not being displayed at the moment, but yes, it's available to the right buyer. I do have some people interested.
Peeples: What's the story behind the "Murderer" skull? How did you come by that one?
Elder: I think it was given to me. It's been so long ago. But it was a really nice skull, with the horns cut out like on "Y6 Sunrise," like big lightning bolts.
Peeples: These are legacy pieces created years ago…after your studio burned down in 1973, and you lost numerous pieces of art never photographed. As you told Texas Monthly writer Sterry Butcher not too long ago: "I'm a fine artist, not a commercial artist…Everyone wants a painted skull, and I don't do that anymore. That was a study in desperation in one of the most insecure times of my life." So what are you working on these days, in 2018?
Elder: I sent you a picture of a piece we did today. It's one of the new experimental pieces I've been toying with for about three years. And this is the first time I've really had an actual large piece finished because I need two extra people at the minimum to help me move it and construct it.
Peeples: What's the medium?
Elder: It's holographic foil applied to polycarbonate plastic. And it's all different patterns. You just have to take a look at it and draw your own conclusions about what it is and what it reflects and what it represents. But it's a totally different genre in contemporary American art.
Peeples: How did you move into that particular genre or medium or use those particular materials to do this? What inspired that?
Elder: I've been using holographic foil for some time. I did a whole series of paintings four or five years ago, and they were shown in New York and L.A. and collected here in Texas and Los Angeles.
The thing is, you create the art, but then you've got to protect it. And that's a work of art in itself, the way it's protected when you ship it. Even if you had it in your own vehicle, it's protected to keep it from getting damaged. Especially with "Lonestar Sunrise" and "Y6 Sunrise" and "Murderer," they're really fragile pieces. And these new pieces still have to be protected in shipment because if not, they can get scratched and discolored.
Peeples: Boyd, thanks so much for telling us the "Y6 Sunrise" story.
Elder: Sure. Now, turn off that recorder, and let's talk!
---
Santa Clarita journalist and Grammy nominee Stephen K. Peeples (aka "El Instigadero") was raised by career newspaper journalists and music-lovers in Miami and Los Angeles. His first music industry gig was as an Associate Editor at Cash Box magazine in Hollywood in 1975. He has written extensively about Texas music and art and wrote his first story about Boyd Elder in 1978. Peeples was the original, award-winning producer of "The Lost Lennon Tapes" radio series for Westwood One from 1988-1990. He earned a Grammy nomination as co-producer of the "Monterey International Pop Festival" box set (Rhino/MIPF, 1992). He was a record company Media Relations-PR executive for Capitol Records (1977-1980), Elektra/Asylum Records (1980-1983) and Rhino Entertainment (1992-1998). He was Rhino's first web editor (1996-1998), then elevated to content editor of Warner Music Group websites (1998-2001). In California's Santa Clarita Valley, Peeples was the award-winning Online Editor for The Signal newspaper's website from 2007-2011, and wrote-hosted-co-produced SCVTV's WAVE-nominated "House Blend" local music show from 2010-2015 (still airing in reruns). At this writing he is SVP/New Media Emeritus for Rare Cool Stuff Unltd., and a News Editor at SCVNews.com. For more info and original stories, visit https://stephenkpeeples.com/. For exclusive behind-the-scenes interviews, subscribe to his YouTube channel. 
---
Article: 'Supernatural' Fate for Texas Artist Boyd Elder's 'Y6 Sunrise' Bull Skull
Category: News and Reviews
Author: Stephen K. Peeples
Article Source: stephenkpeeples.com