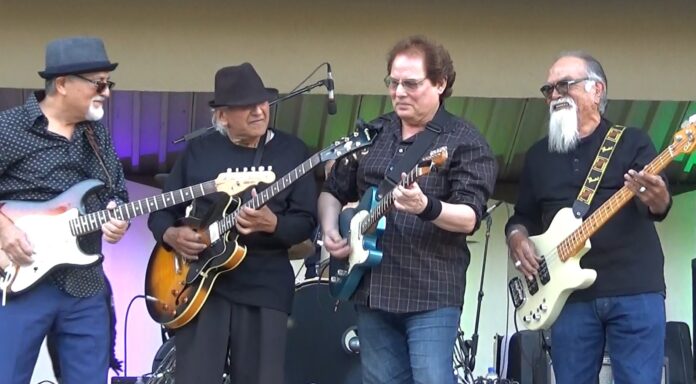 The Delgado Brothers headlined a tribute and benefit concert for guitarist, teacher, and music shop owner Johnny Thompson at Barnes Park Amphitheatre in Monterey Park, California, on Sunday afternoon, March 20, 2022.
Also on the bill for "A Day of Music": The Distrix, Thee Midniters, Innerforce, and Jumpin' Jack Benny featuring guitarist Danny Diaz.
Thompson, who owned and operated Johnny Thompson Music for more than half a century, and was revered by generations of student and professional musicians in and around Monterey Park and East Los Angeles, checked out last August 21.
For more info about Thompson, call 626-943-3080 or click here.
The Delgados – brothers Steve (drums, lead vocals), Joey (guitar), and Bob Delgado (bass) and their "Irish half-brother" David Kelley (organ, from Indiana) – were the 2016 International Blues Challenge National Champions, and Joey was the IBC's "Albert King Award" winner as "Best Band Guitarist" the same year, representing the Ventura County Blues Society.
The East L.A.-based blues, roots-rock, Americana, and Latin soul band enjoys a loyal international following and celebrates its 35th anniversary in 2022, but the brothers' musical legacy stretches back more than half a century.
To find out more about The Delgado Brothers, click here. To find out even more, click here.
For the Thompson tribute finale, the Delgados invited two special guests to join them: Diaz and Bob Robles, both of whom Joey said were friends who taught him a lot about playing guitar over the last 50 years. Like the Delgados, Diaz (Chico) and Robles (Thee Midniters) are East L.A. Chicano rock legends.
The three guitarists swapped solos, bars, and licks in an extended version of Sonny Landreth's 1985 workout "Congo Square."
---
Stephen K. Peeples is a Grammy-nominated multi-media writer-producer and award-winning radio/record-industry veteran raised in Miami and Los Angeles by career newspaper journalists and music-lovers. Based in Santa Clarita, California, he is (as of spring 2022) writing a Boyd Elder art book-biography, "Boyd Elder, Artlaw: The Greatest Artist You've Never Heard Of" (due from Bring Music Home Publishing in late 2022). Peeples is also co-authoring a new book with artist and pop-culture legend John Van Hamersveld commemorating the 60th anniversary in 2023-24 of Hammer's iconic poster for Bruce Brown's epic surf movie "The Endless Summer." And Peeples is conspiring with Cindy Johnson and Jeri Jenkins, founders of Home At Last, the Miami-based concierge service for rock stars recording at Criteria and Bayshore Studios, on the dynamic duo's memoir. See the "About" page on his website. More original stories and exclusive interviews are posted there and on his YouTube channel.
---
Article: Delgado Brothers, Danny Diaz, Bob Robles: 'Congo Square' Guitar Duel
Category: News and Reviews
Author: Stephen K. Peeples
Article Source: stephenkpeeples.com