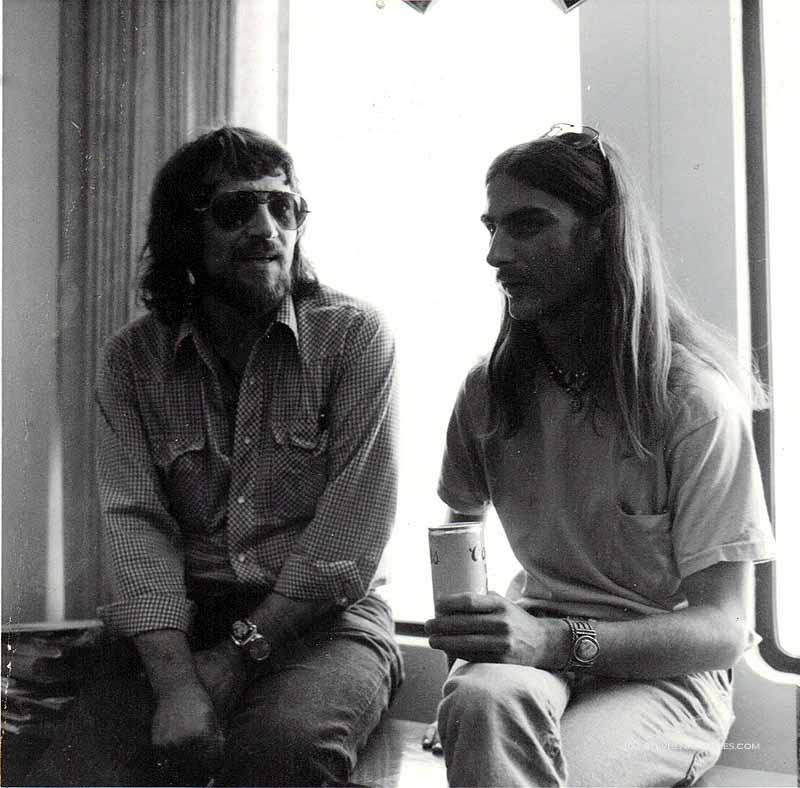 Country music outlaw Waylon Jennings spoke with Santa Clarita journalist Stephen K. Peeples at RCA Records in Hollywood for a Cash Box magazine feature published July 12, 1975. Photo: Matt Cupp.
Many artists project a schizophrenic split between their music and their personal lives; not so with Waylon Jennings. Waylon's personal life is his music and it reads like the proverbial open book.
"I have to feel good about my music," he told me on a recent visit to L.A.
His songs are direct descriptions of honky-tonk roadhouses; loves lost, found, and realized on the road and off; lifestyle statements and answers for those who criticize his "maverick" ways.
The main thrust of his life and music is a personal reality, something he could not find when he went to Nashville to "make it." He outlines that experience in the lyrics of his upcoming RCA single release: "Lord, it's the same old tune, fiddle and guitar/Where do we take it from here?/rhinestone suits and new shiny cars/It's been the same way for years/We need to change…Somebody told me when I came to Nashville/son, you've finally got it made/Ol' Hank made it here/we're all sure that you will/But I don't think Hank done it this-a-way, no…"
It is precisely that stance that has caused proponents of Nashville's contemporary orientation to relate to Waylon Jennings as somewhat less than a favorite son. His experience in Nashville served to strengthen his life/musical concepts which he took back to the road for further development. He chose a course alternate to Nashville to "make it" which, although it may have taken him longer, was closer to his reality and therefore better for him.
Though Waylon's style is distinctive, he has no illusions that he is not a product of his diverse musical environment: on the contrary, he is the first to recognize that fact in the opening words of "Bob Wills Is Still The King" on his latest RCA album. At age 14, when he landed a job as a disk jockey in Lubbock, he was playing and listening to George Jones, Hank Williams, Bob Wills, Chuck Berry, and Carl Perkins, to name a few.
While at KLLL, Waylon was picked up as a bass player by Buddy Holly; though Jennings' roots lie in country, the rock 'n' roll influences of Holly, Berry, and Jerry Lee Lewis are certainly there and are not subjugated. They are integrated with his well-deep vocals in the totality of sound that makes Waylon's music a unique hybrid of many influences.
It is no surprise, therefore, that Waylon's audiences are among the most diverse in music today; at his recent Santa Monica Civic appearance, the entire range of diverse lifepaths crossed to hear him play. Differences in lifestyles were put aside in favor of the common denominator of the straightforward reality in Waylon's music.
This is not to say he is alone in this type of cross-demographic appeal; more succinctly, Waylon is representative of a larger force. One has only to look to the equally diverse audiences of songwriter/performers like Willie Nelson, Jerry Jeff Walker, B.J. Shaver, Kristofferson, and others who, like Waylon, create music not within restrictive market boundaries but solely for the higher purpose of projecting life and music as they live and perceive it and to thereby communicate with as many people as possible.
It then becomes obvious that Waylon's music, as Hoss himself puts it, is "a bridge that connects us all. For instance, if you listen to the lyrics of  'Dreaming My Dreams,' the differences and boundaries between forms become insignificant. Good music is timeless and good songs have no boundaries."
Contrary to tongue-in-cheek statements that he is envious of wife Jessi Colter, with the release of his latest RCA album, "Dreaming My Dreams," Waylon Jennings moves closer to his goal of reaching as many people as possible. Without resorting to homogenized commerciality, and with steady development of a diverse listenership, this album and the ones that follow should firmly establish Jennings as an artist who obliterates chart lines.
As to Colter's success, husband and co-producer (with Ken Mansfield) Waylon is more than pleased with the response Jessi has received in the last six months and of the huge strides she has made as a performer.
Waylon is quite candid about the positive effect their relationship has had on his own life:
"I had almost given up," he stated with a light in his eye. "Jessi became the inspiration I needed to carry it through."
Special thanks to Grelun Landon, Paula Batson, Jessi Colter, and Matt Cupp.
---
Grammy nominee Stephen K. Peeples was raised by career newspaper journalists and music-lovers in Miami and Los Angeles. His Grammy nomination was for co-producing the "Monterey International Pop Festival" box set with Geoff Gans and exec producer Lou Adler (Rhino/MIPF, 1992). • Peeples was the original, award-winning producer of "The Lost Lennon Tapes" radio series for Westwood One from 1988-1990, and writer/producer of hundreds of WW1 programs in the preceding five years. • His first music industry gig was as an Associate Editor (Radio, West Coast Country) at Cash Box magazine in Hollywood in 1975. He went on to be a Media Relations-PR executive for Capitol Records (1977-1980), Elektra/Asylum Records (1980-1983) and Rhino Entertainment (1992-1998). • Moving online, he was Rhino's first web editor (1996-1998), then elevated to content editor of Warner Music Group websites (1998-2001). • Based in the Santa Clarita Valley just north of L.A., Peeples was the award-winning Online Editor for The Signal newspaper's website from 2007-2011, and wrote-hosted-co-produced SCVTV's WAVE-nominated "House Blend" local music TV show from 2010-2015 (archived online and still airing in reruns). • The Santa Clarita journalist is now a News Editor at SCVTV's SCVNews.com, SVP/New Media for Rare Cool Stuff Unltd. and developing a biography of notorious Texas Artlaw Boyd Elder. • For more info and original stories, visit https://stephenkpeeples.com/. For exclusive behind-the-scenes interviews, subscribe to Peeples' YouTube channel.
---
Article: Waylon Jennings: Ramblin' Man – Cash Box, July 12, 1975
Author: Stephen K. Peeples
Article Source: StephenKPeeples.com