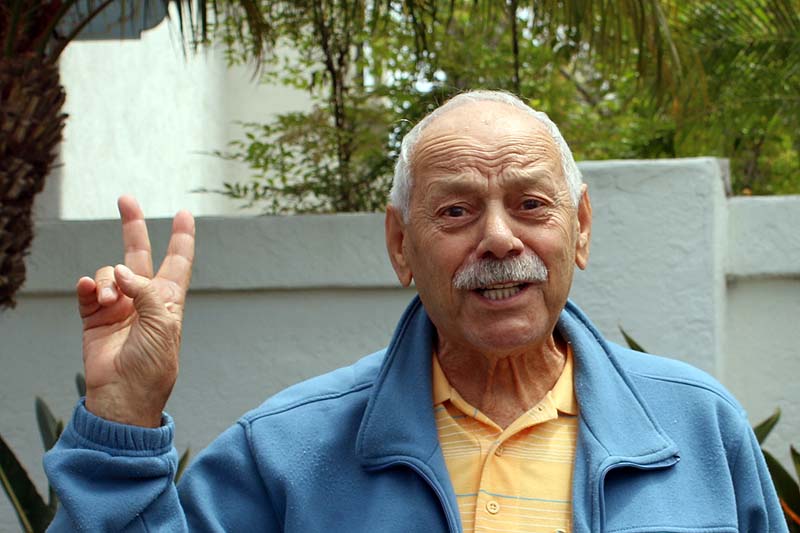 Rodger Joseph Miceli, U.S. Navy and USS Midway veteran, retired United States Postal Service letter carrier, cosmetologist, artist, and longtime resident of Carlsbad, California, died of congestive heart failure Thursday evening, May 4, 2017, with immediate family at his bedside. He was 86.
He was the beloved patriarch of five extended families in Chicago, Los Angeles, Carlsbad, Santa Clarita and National City.
Mr. Miceli was born on January 10, 1931 in Chicago, Illinois. His father, Vito R. Miceli, was a supervisor at Sawyer Biscuit Company (died 1973), and his mother, Antonia, was an artisan candy decorator (died 1992).
Rodger was the second of two children born to the couple. His older sister, Lorraine M. Miceli (Martini), a Carlsbad resident since 1995, is equally beloved as matriarch to those five families.
A June 1949 graduate of St. Leo's High School in Chicago, Mr. Miceli joined the U.S. Navy in January 1950, as tensions were building in Korea.
He served on the aircraft carrier USS Midway CV-41, now docked at the USS Midway Museum in San Diego, as a yeoman naval seaman apprentice (YNSA) in the Gunnery division.
The Navy commissioned the Midway in 1945, and stationed the carrier at Norfolk, Virginia. Then the largest ship in the world – too large to navigate the Panama Canal at the time – the Midway sailed the Atlantic Ocean during the Korean War, which broke out in June 1950.
Mr. Miceli initially loaded heavy ammo below decks on the Midway, which was tasked with training pilots of early jet fighters (like the Grumman F9F Panther) in carrier takeoffs and landings, among other operations.
He was later assigned to yeoman duties in the Gunnery office, and after leaving the Navy in January 1952 received an Honorable Discharge.
In the years after his military service, he attended a cosmetology school in Chicago and cut and styled hair professionally for many years in the Chicago area.
He relocated to Los Angeles in 1964, initially residing in Hollywood, and continued his work as a cosmetologist at the Farmer's Market and Bullock's Wilshire.
His sister Lorraine and her husband Lawrence Martini followed in 1967 with their four children, Cheri, Marcie, Rene and Nadine. Eventually, the Martini family and Mr. Miceli relocated to residences just a few miles apart in the Los Angeles suburb of Glendale.
In 1973, he joined the U.S. Postal Service and was a letter carrier for 20 years in the Glendale area. He retired in 1993 and moved to Carlsbad, then to Yucca Valley and Palm Springs, and eventually returned to Carlsbad in 2005. He resided at Rancho Carlsbad Country Club Estates, just a few miles from sister Lorraine and nieces Cheri, Rene and Marcie.
For the next dozen years, right up to spring 2017, the tight-knit brother and sister and their extended families shared many memorable experiences. They ranged from multiple birthday and holiday celebrations and reunions each year to theme park tours to world travel, including visits to Italy, the Miceli and Martini families' ancestral homeland.
Mr. Miceli was a sports fan who enjoyed watching baseball, basketball and football on television. He was an avid bowler most of his life and enjoyed yoga, shuffleboard, bocce ball, water aerobics, Chi Gong and other activities at Rancho Carlsbad.
A talented artist, he most recently was honored with an exhibit of his paintings at the Rancho Carlsbad art gallery.
Asked what she would like people to remember most about her brother, Lorraine Martini said: "Roger was a most generous, thoughtful and loving brother. He was also a fabulous artist."
In addition to his sister, Mr. Miceli is survived by nieces Cheri A. Martini-White (husband Michael J. White), Marcie A. Martini and Rene A. Martini, all of Carlsbad, California; and Nadine A. Martini-Peeples (husband Stephen K. Peeples) of Santa Clarita, California.
Miceli is also survived by great-nephews Nicholas M. White (wife Kimi Nikaidoh) of Dallas; Scot L. Peeples (wife Jessica Posner Peeples) of Santa Clarita and Donald G. Berger (wife Amy Berger); great-nieces Michelle C. White-Rico (husband John A. Rico) of National City, California, Veronica J. Peeples of Santa Clarita and Micaela L. Hicks of Carlsbad; great-great nephews Jack C. Rico of National City and Brendan D. Berger; and great-great nieces Miley R. Berger and Camille A. Rico of National City.
A public memorial service for Mr. Miceli is set for Thursday, June 15 at 11 a.m. at St. Patrick's Catholic Church in Carlsbad. There will be a private memorial and interment at Miramar National Cemetery.
In lieu of flowers or gifts, Mr. Miceli's family requests donations be made to the American Heart Association in the name of Rodger J. Miceli.
---
Stephen K. Peeples is a Grammy- nominated producer and an award-winning journalist, PR consultant and website producer. Email skp (at) stephenkpeeples.com or visit https://stephenkpeeples.com.
---
Article: Obituary – Rodger Joseph Miceli, USS Midway Veteran, USPS Retiree
Category: News & Reviews
Author: Stephen K. Peeples
Article Source: StephenKPeeples.com