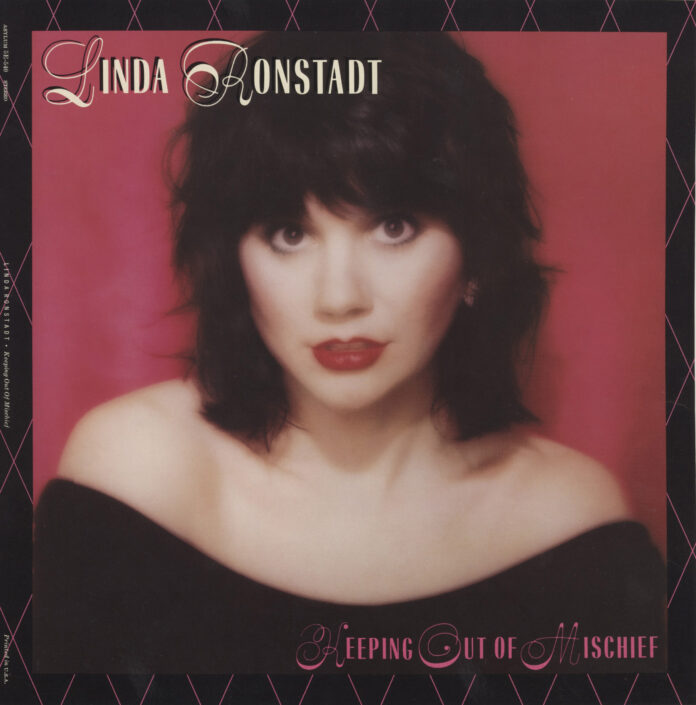 The well-received September 2019 theatrically released film documentary "Linda Ronstadt: The Sound of My Voice" altogether skipped "Keeping Out of Mischief," the unreleased album of torch songs the singer recorded with renowned record producer Jerry Wexler and a small combo of jazz greats in mid-1981.
"Keeping Out of Mischief" was among the bridges on Ronstadt's musical path from stadium-arena rock singer to performing Gilbert & Sullivan on Broadway to taking on the torchy American standards she would go on to record with Nelson Riddle and his orchestra for her 1983 album "What's New."
Wexler, the Billboard music journalist who coined the term "rhythm & blues" and went on to join Atlantic Records (where he produced Aretha Franklin, Ray Charles and Willie Nelson, just for starters), visited the Elektra/Asylum offices at 962 N. La Cienega Boulevard in West Hollywood on August 7, 1981, as he was finishing the "…Mischief" sessions with Ronstadt at the famed Village Recorders in West Los Angeles.
Wexler was also overseeing the sessions with Austin-based Roomful of Blues-Double Trouble singer Lou Ann Barton for her first solo album, "Old Enough," which then-former Eagle Glenn Frey was co-producing with Jimmy Johnson at Muscle Shoals Sound Studio in Alabama.
Wexler spent an hour with this reporter, at the time Editorial Director in E/A's Media Relations department, to talk about the upcoming Barton and Ronstadt projects as I prepared their respective press kits.
We adjourned to the conference room, hallowed ground because it was once Elektra Studios, the room behind the asylum door where The Doors and Love and so many icons had recorded. My co-worker Jacky Sallow, Media Relations' staff photographer, caught us as we walked through the courtyard from the label's offices to the conference room.
According to my rough label copy and research notes, the Ronstadt album's working title was "Just for a Thrill." Wexler saw that as we sat down, and as I hit the "record" button to tape the interview – which has never been published before now – he told me there'd been a title change….
Peeples: Ah! "Keeping Out of Mischief" it is now. "Just for a Thrill" is dead?
Wexler: That's out. I'll red-line that with a red pen to make it official. (Does so.) Oh, here it is, this is my list! That's it, that's my handwriting. It's called "Keeping Out of Mischief."
Peeples: Ok, so can you tell me a little bit about the…
Wexler: Genesis to the session?
Peeples: Yes, please!
Wexler: All right. Last summer, Linda came to New York to do "Pirates (of Penzance"). She and my wife Renee had been friends, and I knew Linda just like on a "Hello, how are you?" basis.
Anyhow, she came out to our house and stayed a couple of weekends in the East Hampton for the summer, and I played her some Mildred Bailey records.
So now who is Mildred Bailey? OK. Mildred Bailey was a white (and Native American) singer, who I suppose you'd call a jazz singer. I don't know what the distinction is between a jazz singer, a saloon singer, a pop singer, but she's a classic singer of traditional, great American songs written by the great writers, the Johnny Mercers and the Harold Arlens and so on.
Maria Muldaur, did two of her songs, because by pure happenstance, by accident, Maria sounds amazingly like Mildred Bailey. Joe Boyd, her producer, got input on old music, so he knew that Mildred Bailey has a very pure, limpid voice and sings with very little adornment. But her phrasing and her voice…
She was married to Red Norvo, the vibraphone player who is still around, still playing. He's playing with Tal Farlow, the guitarist.
https://youtu.be/KW4YoRZBafs
And (Linda) was captivated. I copied off a whole bunch of Billie Holiday records, and of course, she knew about Billie Holiday, and some other singers like Lee Wiley, Sarah Vaughan, Anita O'Day, who were known as jazz singers.
But I would be most particular about keeping that word "jazz" out of any references to Linda Ronstadt. It's a buzzword and it's got a lot of bad connotations and it's not what we're trying to do. It's just Linda singing great traditional American standard songs.
So, since she's a person who is always reaching out and seeking new avenues, like the way she did with "The Pirates of Penzance," she said, "Boy, I'd like to sing some of these songs." And we wound up going into A&R (Studios) in New York several months ago with a piano player and a bass player to do a little finger exercise to see how it would come out.
We did about six tunes, but we used the best players: Tommy Flanagan, the pianist who was Ella Fitzgerald's accompanist of 15 years, and George Mraz, one of the most fabulous bass players as you'll hear, on of course the upright bass. So, Linda was very encouraged.
These were just experiments. We didn't even try to worry about leakage or sound. It's just like, 'Let's see if the suit fits.' And indeed it did fit.
Still there was no talk about an album, and of course, there was a great deal of concern on my part about pushing her into a new area. That was not my intention, I never thought about it, [I was] just helping her to familiarize herself with some of these songs and an approach to these songs.
And Linda decided she wanted to do an album of this music, so we spoke to Joe (Smith, Elektra/Asylum Chairman) and Peter Asher (her manager), and they gave us their blessings – maybe qualified blessings, I don't know. So we cut the album literally in four days, in regular traditional union sessions, two, three-hour sessions a day for four days.
And the band, well, when you do a thing like this, you can have an instrumental combination (with many) permutations and combinations. Like, what do you do? What is this sound? What is this style? How many horns?
Then you think of Billie Holiday, of Sarah Vaughan, and it came to me that maybe we should do a very sparse, minimalist session and use players who may sparkle in the jazz world, but whose forte is delicacy, embroidery, economy, and not blasting bebop, loud jazz.
The same thing would apply to Linda: She wouldn't attempt to do vocal pyrotechnics like Sarah Vaughan. Linda sings the songs as written and with her own feeling, and yes, she interprets, she doesn't sing them literally note to note, her own interpretations, but they're within a specified range of improvisation, they're not far out.
It's really popular music, good music, whatever you want to call it, with a band of very special players.
Making 'Mischief'
Wexler: The musicians (included) Tommy Flanagan, who is acknowledged to be one of the geniuses on piano. He's a very modest man and very unassuming. He's not a self-advertiser, but he's a great player and everybody knows it.
It's very important in a situation like this to have a player who is both an accompanist and a player in the rhythm section. There are pianists who play in a rhythm section who can comp and keep time; there are accompanists who can embellish and work with a singer, and support her but can't be in the rhythm section. You need somebody that can do both.
It's a very special art to set up the singing. I think you'll see when you hear the records that Tommy Flanagan is the hero, he's the man of the session.
And then we had George Mraz, a Hungarian and acknowledged by people who know to be one of the great bass players, on upright bass.
The drummer is Walter Bolden, who is not well known, but this kind of drums is just keeping time with brushes. You don't hear a lot of pedal with drums. It's just that steady sound and keeping perfect time.
The guitarist is Tal Farlow, who is again one of the acknowledged geniuses. He spent years with Red Norvo then went into retirement and he's come out again. There've been a lot of stories about Tal emerging. He's playing with Red Norvo right now in New York.
And two horns, Al Cohn on saxophone, and Ira Sullivan, who is an eclectic genius. He's been hiding in Miami for 20 years. He played with Charlie Parker when he was 16 years old, and plays trumpet, flugelhorn, trombone, flute, tenor and alto saxophones.
Ira didn't play all of those on the session; he played alto, trumpet, flugelhorn and flute.
The charts, the arrangements, were minimalist arrangements written by Al Cohn, who is a veteran and a genius at this stuff.
For example, Al wrote a chart for me on a record I did in 1959 called "The Genius of Ray Charles," which you probably know…it's a landmark album.
Different people did different [charts]. Quincy Jones did some. And then Al Cohn did a lot of arrangements for us for Chris Connor, one of the great jazz singers over the years.
So we got the album done in four days, we did 11 songs, and one extra one.
Peeples: Was that also at A&R Studios?
Wexler: No, we did that at a studio called Right Track in New York, a new studio, 48th Street. Terrific studio, I'm very fond of it. (It has) a beautiful board.
And then Linda was under a lot of pressure to learn the songs, and come to the studio and do these things. She had just quit ("Pirates of Penzance"), she was exhausted, and she's done an incredible job. She's a perfectionist and needless to say, her contributions other than the singing were very significant, the arrangements, feels and so on.
Then she thought she would like to finish it [in L.A.], meaning finishing the vocals, redoing vocals as needed, and mixing it out here so she would be comfortable and be home for a while.
So we came out here, myself and Jim Boyer, the engineer. I can't say too much about him. He's Phil Ramone's engineer, which means he works with all the people for Ramone, like from Billy Joel on. He's extremely dependable and a great pleasure to have, and we're working at Village Recorders in Studio D, the house that Fleetwood Mac built.
Peeples: The house that Steely Dan built before them, too.
Wexler: That's a great room. I've never been so comfortable in a room. We're all comfortable and we like it. We had a meeting with Joe Smith and with Peter Asher Monday and I think they like what they heard. Who's to predict – I mean, this was such a new departure.
We agreed that we needed to recut one track which was dragging, so we recut "Someone to Watch Over Me." We used L.A. standards musicians – Michael Melvoin, piano, Larry Bunker, the drummer, Jim Hughart, bass player. That's all, three pieces. And saxophone by Tom Scott.
Wexler on the 'Mischief' Songs
• "Crazy He Calls Me" was originally associated with Billie Holiday, and the music was written by a dear friend of mine named Carl Sigman, and the words by Bob Russell, who is deceased.
• "Never Will I Marry," words and music by Frank Loesser. It was from a Broadway show called "Green Willow." Nancy Wilson has a great record of that with Cannonball (Adderley), (recorded when) she was 16 years old. Very charming record.
• "Falling in Love Again" is from "The Blue Angel," "Der blaue Engel," Marlene Dietrich and Emil Jannings. [Sings a bit in a deep voice.] And Linda liked that one.
• "I've Got a Crush on You," what can I say – George and Ira Gershwin.
• "Keepin' Out of Mischief Now" was written by Fats Waller and Andy Razaf.
• "Ghost of a Chance," another great standard ballad, was written by Bing Crosby, Ned Washington and Victor Young.
• "Lover Man" of course is a standard love song with great singers – everybody has done it from Billie Holiday to Sarah Vaughan, Ella Fitzgerald and so on.
• "What'll I Do" is a very plaintive ballad by Irving Berlin in three-quarter time.
• "Someone to Watch Over Me," again that's the Gershwins, George and Ira Gershwin.
• "Goodbye" is a very lesser-known song by Gordon Jenkins, who wrote words and music, and Frank Sinatra has a beautiful version of it on "Only the Lonely." It's Gordon Jenkins' arrangement, just an incredible record that's been under-recorded. Benny Goodman used to use it for his signature sign-off theme song on the radio, an uptempo instrumental, a middle-tempo instrumental.
Wexler: I gave Joe [Smith] two sides to present at the sales meeting.
'Mischief' Cover Photo by Carol Friedman
Wexler: And the cover was shot in New York by a photographer named Carol Friedman, who also is doing Lou Ann [Barton]'s cover. Kosh is designing Linda's cover and everybody's knocked out with the cover, with the photograph by this girl who I had the good fortune to introduce to Linda and show some of her work. Everybody's very pleased with her.
She took the publicity shots and so on, and you can see that Kosh will have a comp you could look at. That's the cover, and we had to redo the one side. And we're going to do some more vocals today and tomorrow and mix at the same time, and I hope we're going to be through by Sunday. I hope so.
I gotta go now. You can call me later at the hotel if you need anything else.
Peeples: OK, thank you!
* * * * *
'Mischief' Misbehaves
Soon after the sessions wrapped, secret cassette copies of "Keeping Out of Mischief" were in the hands of a couple of key A&R and promotion reps at Elektra/Asylum, which had also gone as far as printing proofs of the album cover package designed by Kosh before Ronstadt put the kibosh on the album's release.
Though bootlegged, the album has never been legitimately released as of fall 2019.
"That's the only time I ever got shit-canned," Wexler said in 2000, reminiscing about "Keeping Out of Mischief" when he called my friend and fellow music journo Michael Sigman to express condolences on the death of his dad, legendary songwriter Carl Sigman, composer of "Crazy He Calls Me."
In an interview published in downbeat in July 1985, Ronstadt told music journalist Steve Bloom what inspired her to record American standards, and why she decided to shelve "Keeping Out of Mischief" and move on to record "What's New" with Riddle. That segment of the interview follows:
Bloom: What exactly caused you to make such a radical break from the rock scene? After all, you were considered by many to be the goddess of rock 'n' roll.
Ronstadt: This is exactly how it happened: I was working in New York on "Pirates of Penzance." Jerry Wexler invited me out to his house one day. So there we were sitting on the lawn listening to this Mildred Bailey record and I said, "Gee, it would be fun to learn some of these songs."
And then I thought: it would be fun to record them. Once we started talking about recording them, Jerry kept saying, "You can do these songs."
I kept saying, "No, my phrasing isn't good enough. I don't have enough technique to do this. I'm too sloppy."
But Jerry kept saying, "You've got the chops, you can do it." He deserves a lot of the credit for not only encouraging me, but getting me into this sort of music.
Bloom: Did you ever record any material with Wexler?
Ronstadt: Yeah. We went into the studio and made a demo – with Tommy Flanagan [on piano] and a bass player and drummer I can't remember. We did "Someone to Watch Over Me," "Lover Man," and my favorite one, "I Don't Stand a Ghost of a Chance With You."
We did them in a hurry, in about an hour and a half. They weren't very good. I did it before the evening performances of "Pirates…" and I was dead tired; I had no voice and my phrasing was terrible.
But it was intriguing enough. I remember feeling seduced by the music; in fact, I was completely gone. It was like falling in love and never being able to look at anyone else. I was totally captivated.
Bloom: When did you get in touch with Nelson Riddle?
Ronstadt: Not for a while. After finishing my run on Broadway, we recorded an album ["Keeping Out of Mischief"] in three days. I just don't work like that – I can do one song a day, but I don't like to do everything in three days. Jerry Wexler is a different kind of producer, he has a different method. I said, "I'd like to rehearse," and he said, "Oh, you don't want to pay the band to rehearse all those days." But I always do that. I needed to sit down, just like I did with my rock 'n' roll records, and figure out which musicians will be good for me. We had more players on this record – sax, trumpet, and Tal Farlow on guitar. They were all really hot players. To tell you the truth, I was more than a little intimidated by them.
Bloom: Who arranged the session?
Ronstadt: Al Cohn. I think he's a real good musician and I liked his arrangements. But I have a particular way of making a record: I rehearse with the band and I have to have a big hand in the arrangements. I can't have somebody say, "Look, here's the arrangement. We're going to cut it like this, then I'm going to mix the record, and you just go home and knit." I just can't do it that way. I like having my hands on the board when we're mixing. If I had been able to work the arrangements out with Al, I think we would have had a lot more success.
Bloom: It doesn't seem like you were very happy with the [recording] session. Was your phrasing any better?
Ronstadt: My phrasing wasn't comfortable and I was still very intimidated by the material. I thought that maybe it was just because I couldn't sing it. For example, when we tried to do "What's New," Jerry said, "You just can't sing this tune. It's not a good tune for you."
I was really disappointed. It's hard to explain how a singer feels when they really want to do a tune and they can't – it hurts my feelings and kind of breaks my heart.
So I went back to Los Angeles and played this record for Peter [Asher]. He thought it was awful. And I played it for J.D. [Souther] and he said, "No, that doesn't cut it." So I ate the cost of it and said that I wanted to re-record these tunes, and everyone just went, "I don't know, I don't know."
I was getting no enthusiasm from anybody. Peter didn't want me to do it – he's not into that kind of American music – and the record company [Elektra/Asylum] was going, "Forget it."
So then I went to England to do the movie of "Pirates…" and then I came back and cut "Get Closer," because I was really overdue for an album and we had all these tunes ready.
But while I was doing it I was eating my heart out for the songs that were on "What's New." I really was – it was all I could think of. When I was in the tub I'd sing them all the time; it was like I was heartsick for it. Then, while we were doing "Get Closer," I said, "Maybe we can do just one of these songs on it." At that point, I would have sold out my best friend to figure out a way to get into the studio with Nelson.
Bloom: The suspense is killing me. So how did you finally get in touch with Riddle?
Ronstadt: Peter called him and asked if he'd be interested. He said he'd be glad to come over.
Bloom: That's the whole story?
Ronstadt: Well, I honestly didn't know if he was still alive, if he was still working, if he had ever heard of me before, or had heard of me and thought I was horrible. I don't think he knew very much about my singing. He doesn't like rock 'n' roll at all. But he's a professional, so he came down to see if this was anything he could bear to do.
When I got Nelson in the studio I said, "Can you just do these three songs with me?" In the back of my mind, I thought if I could just get these three things recorded they'd sound so good that I could convince people.
But Nelson said, "I don't like to do that. I've turned down almost everybody who's ever asked me to do album cuts; I just do albums." And I said, "God, if you want to do an album with me, let's do it."
So we started up. All I needed was one person to be as enthusiastic about the idea as I was. And Nelson became that person.
Bloom: So you finished "Get Closer" according to the original plan and started working immediately on "What's New"?
Ronstadt: We went right into the studio and cut three songs: "What's New," "Someone To Watch Over Me" and a third song I can't remember. I knew I could sing "What's New," and I was right.
I played the songs for J.D. and for Andrew Gold, who likes orchestrated music – they both went nuts. I played it for Steve Martin, and he liked it too. They all pushed me to finish the project.
So I went back in, finished the rest of it, and was never happier singing. I just never had as good a time singing as I did doing that record.
After "What's New" in 1983, Ronstadt and Riddle collaborated on two more albums of American standards – "Lush Life" (1984) and "For Sentimental Reasons" (1986) – before she released the first "Trio" album with Dolly Parton and Emmylou Harris and her tribute to her father, "Canciones de Mi Padre" (both 1987).
Those projects and more are featured in "The Sound of My Voice," directed by Oscar-winning filmmakers Rob Epstein and Jeffrey Friedman.
---
Santa Clarita journalist and Grammy nominee Stephen K. Peeples was raised by career newspaper journalists and music-lovers in Miami and Los Angeles. He was the original, award-winning producer of "The Lost Lennon Tapes" radio series for Westwood One from 1988-1990. He earned a Grammy nomination as co-producer of the "Monterey International Pop Festival" box set (Rhino/MIPF, 1992) with Lou Adler and Geoff Gans. Peeples' first music industry gig was as an Associate Editor at Cash Box magazine in Hollywood in 1975. He went on to be a record company Media Relations-PR executive for Capitol Records (1977-1980), Elektra/Asylum Records (1980-1983) and Rhino Entertainment (1992-1998). He was Rhino's first web editor (1996-1998), then elevated to content editor of Warner Music Group websites (1998-2001). In the Santa Clarita Valley just north of L.A., Peeples was the award-winning Online Editor for The Signal newspaper's website from 2007-2011, and wrote-hosted-co-produced SCVTV's WAVE-nominated "House Blend" local music show from 2010-2015 (archived online and still airing in reruns). He is now a News Editor at SCVNews.com, Editor/Features Writer for Wealth Wisdom Wellness magazine, and VP/New Media Emeritus for Rare Cool Stuff Unltd. For more info and original stories, visit https://stephenkpeeples.com/. For exclusive behind-the-scenes interviews, subscribe to his YouTube channel.
---
Article: Ronstadt, Wexler on Unreleased 1981 Album 'Keeping Out of Mischief'
Category: News and Reviews
Author: Stephen K. Peeples
Article Source: stephenkpeeples.com