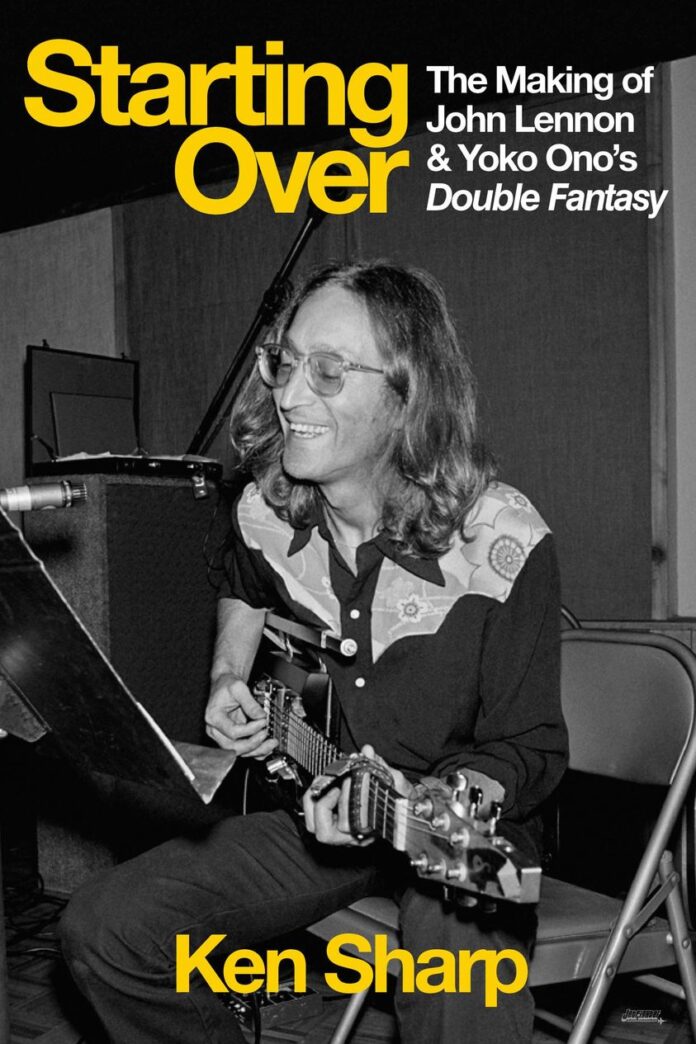 This is a slight update of a feature I wrote about Ken Sharp's 2010 book, "Starting Over: The Making of John Lennon and Yoko Ono's 'Double Fantasy,'" for the Santa Clarita Valley Signal newspaper's Escape entertainment section, published Friday, Nov. 19, 2010. It's now a dead 404 page on the paper's once-award-winning website.
On Nov. 17, 1980, "Double Fantasy" – the first album to feature new studio tracks by John Lennon since 1975's "Rock 'n' Roll" – hit the bins as the advance single "(Just Like) Starting Over" was on the radio and moving up the charts.
Initial reviews of "Double Fantasy" were mixed; some took issue with the album including songs by Lennon's wife Yoko Ono (their "Sometime in New York City" album in 1972 was the last to do so), which was by the couple's design.
Others thought "Double Fantasy" was soft and retro compared to the ex-Beatle's bleeding-edge 1970 solo debut, "John Lennon/Plastic Ono Band," or to the punk, New Wave and metal sounds most critics favored in the late '70s and early '80s.
Still others recognized "Double Fantasy" as the latest work by the same guy who'd recorded "JL/POB," but a decade later, a survivor of his own fame and excess, mellowed by domestic bliss and fatherhood, and damn proud of it all.
But many music critics and most fans celebrated "Double Fantasy" as the comeback of one of rock's most influential artists after his self-imposed five-year layoff to get his mind right, mend his marriage to Yoko and raise their son, Sean Taro Ono Lennon, born Oct. 9, his father's 35th birthday, in 1975.
How the once-ubiquitous, then very reclusive Lennons engineered their return once again to the public eye in 1980, and how the couple recorded "Double Fantasy" and the tracks that became the followup album "Milk & Honey," are the focus of the book "Starting Over: The Making of John Lennon and Yoko Ono's 'Double Fantasy.'"
First published in fall 2010 from Gallery/VH1/Simon & Shuster, and a decade later as an ebook, the rock doc by author Ken Sharp ("Elvis: Vegas '69," "Reputation is a Fragile Thing: The Story of Cheap Trick") is a fascinating oral history of the Lennons' August-October 1980 sessions with producer Jack Douglas and a band of first-call musicians at the Hit Factory studios in New York City.
"I wanted to create a fly-on-the-wall perspective," Sharp said.
Mission accomplished.
The inside story unfolds through candid quotes from Sharp's exclusive original interviews with Ono, Douglas and a couple dozen more people who were closest to the Lennons at the time, and were most personally and profoundly affected by John's murder at the hands of a deranged "fan" the night of Dec. 8, in the entryway to the Dakota, the apartment building on 72nd Street West where the Lennons lived.
Illustrating the narrative are dozens of rare photos, most previously unpublished, taken by Roger Farrington on the first day of sessions on Aug. 7, 1980, and David M. Spindel, the last camerman to photograph John and Yoko in the studio at one of the final sessions in October. Both Farrington and Spindel contributed essays about their respective encounters.
Most significantly, Lennon himself is well represented in recounting the "Double Fantasy" saga via quotes from several of his final interviews, including the very last one, with RKO's Dave Sholin, Laurie Kaye and Ron Hummel at the Dakota on Dec. 8, hours before John was shot.
(After the interview, the Lennons headed to the Hit Factory and the RKO team headed straight to the airport to catch a flight back to San Francisco and didn't hear the awful news until they'd landed.)
For example: "They were all dialog songs, meaning that we were writing it as if it were a play, and we were two characters in it," Lennon told Sholin, enthusiastically explaining the "Double Fantasy" concept.
"What we sing about in the record, and the songs, are real diaries of how we feel," John said. "We're not presenting ourselves as the perfect couple…We have our problems, we have our doubts, but we're trying. We want to stay together."
It was to be a work by adults who'd survived their rebellious youth, finally figured out what was most important to them, and were now writing for their peers.
"When I was singing and working with (Yoko), I was visualizing all the people of my age group from the '60s being in their 30s or 40s now, just like me, and having wives and children, and having gone through everything together," Lennon continued. "I'm singing to them. I'm saying, 'Here I am now, how are you? How's your relationship going? Did you get through it all? Wasn't the '70s a drag? Let's try to make the '80s good 'cause it's still up to us to make what we can of it.' It's not out of our control. I still believe in love, peace."
As the book's oral history plays out, we get more details of how Lennon finished writing and recorded demos for most of his "Double Fantasy" songs on a couple of boomboxes while on vacation in Bermuda during summer 1980.
We read how and why he and Yoko contacted Douglas, with whom they'd both worked before, and how Douglas assembled and rehearsed the studio musicians before recording sessions began at the Hit Factory – all in a shroud of secrecy.
We learn how Douglas, at Lennon's offhanded suggestion, stashed extra microphones in John's vocal booth and all over the studio to record every word John spoke and every note he sang as an audio documentary.
https://www.youtube.com/watch?v=ReI6VfF6mms
After the sessions, Douglas had all the reels of recorded extras dubbed to cassette and presented them to Lennon as a 40th birthday surprise that Oct. 9.
(Eight years later, those cassettes were dubbed back to quarter-inch tape and the dozens of reels were shipped to the Westwood One Radio Network.
From early 1988 through mid-1990, this reporter used those tapes extensively as writer/producer of "The Lost Lennon Tapes" radio series to take listeners into the studio so we could all be flies on the wall during the "Double Fantasy" sessions.
The tape boxes were labeled "MCRT," which we took as an acronym for "master control running tape," an apt description. Another movie altogether.)
https://youtu.be/IR3Jehx0CQA
From Sharp's book, we also find out what really happened to the infamous video that was shot during one recording session (seen above); how the Cheap Trick-ster sessions went and why the two tracks Nielsen and Carlos played on – Lennon's "I'm Losing You" and Ono's "I'm Moving On" – didn't make the final album; and how it was decided to sequence "Double Fantasy alternating John's and Yoko's tracks instead of putting his tunes on Side 1 and hers on Side 2.
Sharp's book also traces Lennon's last hours on Dec. 8. John worked with Douglas and Ono mixing her track "Walking on Thin Ice" for an upcoming single release. Later, the Lennons talked with Douglas about maybe taking the "Double Fantasy" songs and more new material on the road sometime in 1981.
In the collective worldwide grief that followed Lennon's cold-blooded murder, "Double Fantasy" zoomed from the teens to No. 1 and stayed there for eight weeks, from December through February. The first single hit No. 1 posthumously, followed by "Woman" (No. 2), Ono's "Walking on Thin Ice" (No. 58) and "Watching the Wheels" (No. 10) into spring 1981. In early 1982, "Double Fantasy" earned the "Album of the Year" Grammy for the '81 eligibility period.
All that has been well-documented. But in the wake of his death, the joy Lennon had felt earlier in 1980, the exuberance of surviving, thriving, being back in the game writing songs, working in the studio, leading a band, then hearing the completed tracks on the radio and watching the records head up the charts, were all but forgotten.
In 2010, ahead of what would have been Lennon's 70th birthday, and the 30th anniversary of "Double Fantasy," Sharp figured it was time for a reminder, and his publisher agreed.
"Very little is really known about the making of 'Double Fantasy' because everything was kind of overshadowed by his tragic passing, and I wanted to really chronicle how the album came to be, something that hadn't been done in book form before," Sharp said.
Using the oral-history device, which harkens back to working in syndicated radio early in his career, Sharp interviewed all the key players at length, then weaved their accounts of the same events from the varied perspectives into a fast-paced narrative.
Sharp puts the reader inside the Hit Factory through colorful, candid and often humorous quotes from Ono and Douglas, along with musicians including guitarists Hugh McCracken and Earl Slick; keyboardist George Small; bassist Tony Levin; drummer Andy Newmark; percussionist Arthur Jenkins Jr.; sax player Howard Johnson; and Cheap Trick guitarist Rick Nielsen and drummer Bun E. Carlos.
Ono spoke at length with Sharp for the book, and Douglas was forthcoming both in recounting the sessions and in helping Sharp make contact with some of the musicians.
"Yoko was really, really kind and gracious, as always," said Sharp, who had interviewed Ono previously for other projects. "And I would keep Jack abreast of everything that was going on. He was, honestly, one of, if not the, most important person to me in writing this book."
Initially, some of the session band was reluctant to speak on the record, Sharp said.
"Andy (Newmark) was my champion with this project – he really believed in what I was doing and wanted to do it right," Sharp said. "He was able to open some doors and forge some connections with at least a few folks like Hugh McCracken and George Small. They hadn't really spoken on the record about the album at any great depth. I have to really tip my hat to Andy for doing that."
Along with Douglas, his studio engineering crewmembers Lee DeCarlo, Julie Last, Jon Smith, James Ball and Steve Marcantonio offered their takes. So did label execs like David Geffen and Eddie Rosenblatt of Geffen Records, which released "Double Fantasy," and Bert Keane and Bob Merlis of Warner Bros. Records, which distributed and promoted it.
Also sharing illuminating vignettes are members of the U.S. and U.K. rock press including Andy Peebles (BBC), Dave Sholin (RKO Radio), David Sheff (Playboy), Robert Christgau (Village Voice), Charles Shaar Murray (New Musical Express), John Swenson (Creem), Jon Young (Trouser Press) and Bill King (Atlanta Constitution).
Videographer Jay Dubin and still photographers Bob Gruen, Kishin Shinoyama, Paul Goresh and Annie Leibowitz all recount the stories behind capturing some of rock's most classic images.
Leibowitz, on assignment from Rolling Stone, took the famous photograph of a naked John curling up in a fetal position embracing a fully clothed Yoko that appeared on the magazine's cover after he died.
"She was the last interview I did," said Sharp, who after numerous attempts was finally able to connect with Leibowitz through mutual friends just as he was wrapping up his manuscript.
"It was actually really, really interesting," he said. "She certainly had spoken about taking images of John on the last day of his life, like that indelible image on the Rolling Stone cover, but never really in this depth. In the middle of the interview, she actually started crying and getting real emotional 'cause it really took her back. She wasn't just their photographer, she was a friend, and to be a part of that moment, which was such a high, and then hear he'd been shot…"
Sharp's book sheds considerable light on Neilsen and Carlos visiting the studio to record versions of John's "I'm Losing You" and Yoko's "I'm Moving On."
Partway through the sessions with the studio players, Douglas, who had produced Cheap Trick's 1978 debut album and was working on other projects with them, recruited the band's guitarist and drummer to add some edge to John's instrumental backing on those two tracks as an experiment.
The tracks bristled with energy – so much so, they weren't used. As much as everyone liked them, they were so edgy in vibe and groove from the more relaxed tracks already recorded with the players, so they didn't fit. Ultimately, Douglas had the studio band go for the same intensity, and the final album versions benefitted from the experiment.
https://youtu.be/zesCZ6FeFrI
"I got an e-mail from Cheap Trick's management a few weeks back, and it was from Bun E. saying he thought that chapter was the best account of that period, of the sessions, and that he thanked me for getting it right," Sharp said in 2010. "That was a real happy moment because I loved those two tracks."
A compelling read, "Starting Over" is an excellent companion to the original album as well as its alter-ego, "Double Fantasy: Stripped Down," the 2010 remix produced by Douglas and Ono that strips the tracks back to the essentials – basic instrumentation and John's unvarnished, unprocessed vocals – and adds choice bits of studio dialog from the masters and the secret studio tapes.
EMI released both a remastered version of the album's original mix and the new stripped-down mix in October 2010 as part of the label's "Gimme Some Truth" Lennon catalog restoration campaign.
"The most important thing I hope this book does is to bring people back to the music and spark them to put 'Double Fantasy' on or explore other Lennon or Yoko songs," Sharp said. "I've heard from a few people who may not have even liked the album when it came out that (the book) really made them want to re-explore the album. That's the greatest compliment anyone could give me."
---
Grammy nominee Stephen K. Peeples was the original, award-winning producer of "The Lost Lennon Tapes" radio series for Westwood One from 1988-1990, and writer/producer of hundreds of WW1 programs in the preceding five years.
• He earned a Grammy nomination as co-producer of the "Monterey International Pop Festival" box set with Lou Adler and Geoff Gans (Rhino/MIPF, 1992). • Peeples was raised by career newspaper journalists and music-lovers in Miami and Los Angeles. His first music industry gig was as an Associate Editor at Cash Box magazine in Hollywood in 1975. He went on to be a Media Relations-PR executive for Capitol Records (1977-1980), Elektra/Asylum Records (1980-1983) and Rhino Entertainment (1992-1998). • Moving online, he was Rhino's first web editor (1996-1998), then elevated to content editor of Warner Music Group websites (1998-2001). • Based in the Santa Clarita Valley just north of L.A., Peeples was the award-winning Online Editor for The Signal newspaper's website from 2007-2011, and wrote-hosted-co-produced SCVTV's WAVE-nominated "House Blend" local music TV show from 2010-2015 (archived online and still airing in reruns). • The Santa Clarita journalist is now a News Editor at SCVTV's SCVNews.com, SVP/New Media for Rare Cool Stuff Unltd. and developing a biography of notorious Texas Artlaw Boyd Elder. • For more info and original stories, visit https://stephenkpeeples.com/. For exclusive behind-the-scenes interviews, subscribe to Peeples' YouTube channel.
---
Article: 'Starting Over' by Ken Sharp Recaps Lennon-Ono 'Double Fantasy' Sessions
Author: Stephen K. Peeples
Category: News and Reviews
Article Source: StephenKPeeples.com