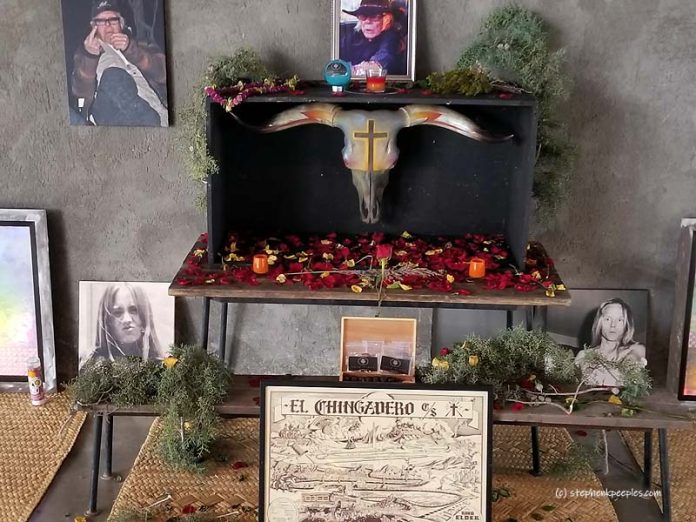 Nearly 100 family members, friends, and admirers of Texas artlaw Boyd Elder gathered at The Capri in Marfa, Texas, on Saturday, Nov. 3, 2018, to celebrate his life and legacy as he probably would have – with art, music, food, libations, and storytelling.
Daughters Flaunn Elder Jamieson and Shaula Elder, Boyd's younger brother Mack (wrangling Sombra, Boyd's faithful Black Labrador), Mack's son Soren Elder Thompson and Elder's frequent road trip sidekick John M. Thornton hosted the affair in The Capri's massive indoor hall and outside patio.
They welcomed guests who, in one way or another, for good, bad, or both, had been "Boyded," as family friend Roy Watson put it.
Elder was born in El Paso on Jan. 12, 1944, and raised there and in Valentine, a tiny town 34 miles north of Marfa on U.S. 90. He was in San Marcos at the end of what turned out to be his final road trip, visiting Thornton, and died at a local hospital just after daybreak on Saturday, Oct. 6. He was 74.
The "No Adios, Motherfucker!" life celebration for Boyd "El Chingadero" Elder at The Capri coincided, incredibly, with an already-scheduled exhibit by Marfa artist Vicente Celis commemorating "La Dia de la Muerta," the Mexican Day of the Dead, when the living celebrate their departed loved ones.
Celis' exhibit was arrayed on the hall's floor, like petals of a large flower radiating from a center display, and he dedicated one petal especially to Elder.
Knowing Elder's affinity for his Spanish-speaking neighbors and their culture (they call him "El Indio Blanco Loco"), and how even when Boyd didn't plan something, everything would just seem to fall into place anyway, Celis' display was perfect, as if pre-ordained.
Further personalizing the event for Elder, Thornton and a couple of co-conspirators lined the walls around the room with a couple dozen large canvas blow-ups of famous Elder art and photos depicting just a few of Boyd's wild adventures and famous friends.
Flaunn and Shaula set up a shrine against one wall, and the centerpiece was "Murderer," one of Elder's "American Fetish – RIP" painted and adorned animal skulls, encased in the wooden crate he hand-made to protect it as it traveled with and without him. The daughters adorned the shrine with photos, rose petals, and more Boydian arty-facts.
(Three other skulls from Elder's "American Fetish – RIP" series are famously depicted on the covers of multi-million-selling Eagles albums "One of These Nights" (1975), "Their Greatest Hits" (1971-1975)" (1976), and "The Very Best Of…" (2003).
Flaunn and Shaula had prepared small quantities of Elder's ashes packed with a feather in glass vials and small plastic bags and gave them to special friends as mementos.
The daughters also ceremoniously scattered some of their dad's ashes onto the shrine, embedding them into "Murderer" as well, a few different times.
Once, the music playing in the background at that moment was Eagles' "One of These Nights." Another time, it was Eagles' "Desperado." Again, not planned, but perfect.
The celebration's most poignant moments came when Flaunn, who grew up on the Big Island mostly and lives there now with her family, asked the guests to circle up Hawaiian-style around the room, surrounding Celis' displays.
Flaunn delivered what amounted to a eulogy for her dad, invoking a Hunter S. Thompson maxim which fairly approximates Boyd Elder's gonzo life, times, and exit:
"Life should not be a journey to the grave with the intention of arriving safely in a pretty and well-preserved body, but rather to skid in broadside in a cloud of smoke, thoroughly used up, totally worn out, and loudly proclaiming 'Wow! What a ride!'"
At Flaunn's invitation, a few guests stepped forward to recount a few favorite adventures with El Chingadero on his wild ride through this life.
Among the funniest comments came from attorney Dick DeGuerin, wearing a cowboy hat and poncho, who stepped a few feet into the circle and said, very somberly (I'm paraphrasing): "I'm honored to own Boyd's last artwork…my wrecked TRUCK!"
Everyone in the room cracked up; as the story goes, DeGuerin had taken his truck to Elder's studio in Valentine for a pin-stripe job. With the door open, Boyd backed up the truck and an upright pole bent the door back.
Elder and a couple of friends just un-bent the door enough to bunji-cord it closed, and he delivered the truck back to DeGuerin, playing it off as no big deal. A classic case of being "Boyded."
Fondue Monks frontman Denver Courtney riveted the circle when he sang "The Crystal Ship" by The Doors, a cappella (Google the lyrics by Jim Morrison; perfectly Boyd). 
John Thornton, who was with Elder at the end in San Marcos, spoke of his friend's final days, and the mostly positive effect Boyd had on his life in the decade-plus they knew and road-tripped together.
Yours truly recalled a wild 2015 adventure with Elder driving from Valentine to special events in San Marcos and San Antonio, with an overnight at Kinky Friedman's ranch outside Bandera en route.
(During the afternoon, I also had the opportunity to videotape a few interviews about Elder with brother Mack, El Paso boyhood pal Jimmy Blackey, and Austin road trip sidekick Roy Watson – key characters who knew him well – for the "Artlaw: Boyd Elder" coffee table art book project Boyd and I had been working on for more than a year with creative partners Tamara Deike and Corey ("Duncan") Stewart.
(Boyd's body didn't go along with our conspiracy to get the book published while he was alive, so he'd be around to enjoy and promote it at art galleries and bookstore signing events. But now his daughters are joining the "Artlaw" team to represent their dad and help get it done to preserve his legacy for all time. Projected publishing date: January 2023.)
There was a party on the patio throughout the afternoon as the storytelling continued, fueled by a well-stocked bar and a huge table-full of pot-luck dishes brought by the guests.
Later in the afternoon, Austin-based videographer Tina Rivera, who along with Corey Duncan Stewart shot a series of interviews with Elder in August 2016, screened a 10-minute clip of highlights.
Among those caught attending Boyd's bash were (alphabetically): Kaki Aufengarten, Rocky Barnett, Loren Barrett, Seras Barrett, Severin Barrett, David W. Beebe, Joey Benton, Jimmy Blackey, Kelly, Wendy and Red Brown, Michael and Sterry Butcher and son Huck, Michael Camo, Ross and Joe Cashiollas, Denver Courtney, Janie and Bobby Crockett, Dick and Janie
DeGuerin, Mack Elder, Flaunn Elder-Jamieson, Shaula Elder, Maggie Gillmar, Tilly Hawk, Saarin and Ronnie Keck, Laurel Keenenconiglio, Vance Knowles, Robin Lambaria, Virginia Leibermann, Sean McGuirk, Bodie Means, Albert Miller, Bill and Jill Dailey Miller, Jenny Moore and her husband, Stephen K. Peeples, Ryan Penland, George Rankin, Guy Ridout, Tina Rivera, John Paul Schwartz, Mark Scott, Cuatro Smith and his wife, Charlie Steed, Tom and Johniele Strong, Kuki Sufenjarten, Scarlet Thibodeaux, Soren Thompson, John M. Thornton, Jennifer Trottie, Grady Williamson, Aaron Wood, Clare Wood, Christian Wood, David Wood, Debbie Wood,  Loren Barrett Wood, Tiffany Wood, Roy Watson, Joe Williams, Mr. Webb, and Ray Zubiate. And Sombra, of course.
As the sun set on Marfa and the celebration, Flaunn, Shaula, and a dozen or so cousins and close friends adjourned to the nearby Pizza Foundation restaurant for a private after-party hosted by owners and family friends Saarin and Ronnie Keck.
The party swapped Boyd Elder stories back-to-back nonstop into the wee hours of Sunday. Some tears, much laughter. If they'd been talking about anyone else, their tales would have been seemed incredible, impossible, unbelievable, insane, and/or total bullshit. The more outrageous, the truer it rang.
Special thanks to Virginia Leibermann and Rocky Barnett, owners of The Capri, for graciously hosting the "No AMF" event, and Jerium for helping set up; Vicente Celis for the special tribute in art; Laurel Keenenconiglio for donating five cases of beer from the Big Bend Brewery; and Saarin and Ronnie Keck for staying open late.
The weekend celebration continued with Sunday morning coffee and breakfast at Mack Elder's, cooked with love and perfection by Roy Watson; story-swapping and playing with the dogs in the afternoon; a visit to the Valentine Cemetery to pay respects to the three or four generations of Bells and Elders buried there; a beautiful sunset drive west into the Sierra Vieja mountain range through what is now the very private Miller Ranch, with special permission of the Miller family, longtime Elder family friends; an unforgettable sunset ashes-scattering ceremony and nighttime star-gazing party with Flaunn, Shaula, Roy, Tilly Hawk, Laurel Keenenconiglio and yours truly, at Camp Holland, the Army installation built at Viejo Pass in 1918 to defend against bandits led by Francisco Villa and near where the Apaches made their last stand in Presidio County on June 12, 1880, when 20 warriors were defeated by four Pueblo scouts; a late and muy delicioso chicken fajitas dinner cooked up fresh at Boyd's house by Roy and the crew; and finally a midnight visit to the Prada Marfa installation. More on all those adventures to come.
---
Santa Clarita journalist and Grammy nominee Stephen K. Peeples (aka "El Instigadero") has written extensively about Texas music and art and wrote his first story about Boyd Elder in 1978. Peeples was raised by career newspaper journalists and music-lovers in Miami and Los Angeles. His first music industry gig was as an Associate Editor at Cash Box magazine in Hollywood in 1975. He was the original, award-winning producer of "The Lost Lennon Tapes" radio series for Westwood One from 1988-1990. He earned a Grammy nomination as co-producer of the "Monterey International Pop Festival" box set (Rhino/MIPF, 1992). Peeples was a record company Media Relations-PR executive for Capitol Records (1977-1980), Elektra/Asylum Records (1980-1983) and Rhino Entertainment (1992-1998). He was Rhino's first web editor (1996-1998), then elevated to content editor of Warner Music Group websites (1998-2001). In California's Santa Clarita Valley, Peeples was the award-winning Online Editor for The Signal newspaper's website from 2007-2011, and wrote-hosted-co-produced SCVTV's WAVE-nominated "House Blend" local music show from 2010-2015 (archived online and still airing in reruns). He is now VP/New Media Emeritus for Rare Cool Stuff Unltd., Editor/Features Writer for Wealth Wisdom Wellness magazine, and a News Editor at SCVNews.com. For more info and original stories, visit  https://stephenkpeeples.com/. For exclusive behind-the-scenes interviews, subscribe to his YouTube channel. 
---
Article: Boyd Elder 'No AMF' Marfa Bash a Feast of Family, Friends, Art
Category: News and Reviews
Author: Stephen K. Peeples
Article Source: stephenkpeeples.com