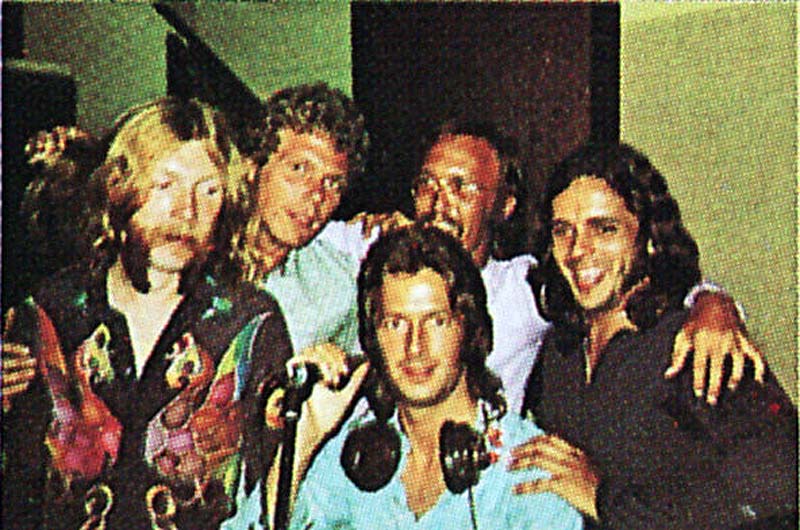 Celebrating the 50th anniversary of Derek & The Dominos' "Layla and Other Assorted Love Songs" sessions at Criteria Studios in North Miami August 26-October 2, 1970, we present an encore of my Spotlight Q&A featuring Domino singer, songwriter and keyboardist Bobby Whitlock from March 3, 2012.
A Dominos co-founder with Eric Clapton (guitar), Carl Radle (bass) and Jim Gordon (drums), Whitlock in 2012 was living in Austin with musical collaborator and wife CoCo Carmel. He had recently published an autobiography and the super-deluxe 40th anniversary "Layla" reissue had just won a Grammy, and graciously spent a couple of hours on the phone with me recapping his career.
This is Part 1 of the story, which traces Whitlock's tumultuous childhood in the Deep South through co-founding Delaney & Bonnie and Friends with Delaney and Bonnie Bramlett in 1968. Part 2, to come, will cover D&B's early years, Clapton's first solo album, George Harrison's "All Things Must Pass" and Derek & The Dominos' formation in spring 1970, and Part 3 will spotlight the "Layla" sessions that summer and fall with special guest Duane Allman.
---
As detailed in my 2012 Spotlight Q&A with Ron & Howard Albert, the lead engineers on the epochal late summer 1970 "Layla and Other Assorted Love Songs" sessions by Derek & The Dominos, the album first released that November was reissued in a deluxe two-CD 40th-anniversary edition in spring 2011.
A super-deluxe edition (above) included a new 5.1 surround mix by another engineering legend, Grammy-winner and surround pioneer Elliot Scheiner, which won the "Best Surround Sound Album" Grammy on February 12, 2012. It sparked yet another resurgence of interest in the album, and the band, as new generations of rock 'n' roll fans are introduced to them.
Derek & The Dominos' lineup: Eric Clapton (guitar, vocals, songs); his primary collaborator Bobby Whitlock (keyboards, vocals, songs); Carl Radle (bass); and Jim Gordon (drums).
Duane Allman, on loan from the Allman Brothers Band, another client of Criteria Studios in North Miami, Florida, where "Layla" was recorded, sat in at Clapton's invitation for most of the sessions, which were helmed by legendary producer/engineer Tom Dowd.

The 40th-anniversary reissue, the Grammy win and an irresistible urge to flash back to a great time in my own misspent youth prompted me to revisit these musicians and their remarkable body of work, a legacy that to my ears still sounds great, timeless, soul-deep.
There was also sort of a personal connection between yours truly and the Alberts and Criteria. I grew up less than a mile from the studio, and went to the same junior and senior high schools as Ron; Howard was a few years older. They were 19 and 23, respectively, when "Layla" was recorded. The band was roughly the same age, maybe a little older. Dowd and Criteria owner Mack Emmerman were really the only adults in the room.
The Grammy nomination also prompted me to reach out to Bobby Whitlock, who I had long admired but never written about. On Facebook in December, I saw a comment from "Domino Bobby Whitlock" on a mutual friend's post, something relating to "Layla." At first, I thought it was a poseur pretending to be the real Domino. I was delighted to be wrong.
After checking out what he's doing now, solo and with his singer/musician/ producer/photographer wife CoCo Carmel (the couple is pictured at right), from his base in Austin, Tex., I sent him a short private "Hail Mary" message, thanking him as a fan for all the great music he's helped make, and asking as a music journalist if he was up for talking some time about "Layla" and his book. I didn't really expect a response.

I flashed back to the first time I heard Whitlock on a Delaney & Bonnie song on the radio. I thought he was Black, his vocals were so intensely soulful. Nossir, turned out he was just a starving white hippie kid with a gospel-soul vocal style and soulful attack as a musician.

As a singer, Hammond B3 player, and songwriter, Whitlock, I thought, was the real sparkplug in Derek & The Dominos, a band from May 1970 through April 1971. Emerging from his support role as the first "friend" in rock 'n' soul band Delaney & Bonnie & Friends (which later included Clapton for a time) and then connecting with Clapton on his own, Whitlock was a perfect rock 'n' roll foil for EC in the Dominos.

Whitlock, born in 1948 in Memphis, Tenn., was raised poor there and in other areas of the rural American South by an abusive father who was an itinerant preacher and a very young mother who was still a teenager when she got pregnant. The couple was often separated by his work and Bobby was partly raised by a colorful but dysfunctional extended family, some of whom were involved in bootlegging and prostitution as well as music.

Singing since childhood and a musician since his early teens, Bobby embodied the pure, genuine soul that Eric the Englishman thought his singing, playing and songwriting lacked. Clapton and Whitlock also shared an affinity for the rock star lifestyle — fast cars, wads of cash, lots of women, piles of cocaine, and eventually, heroin.
Clapton and Whitlock's musical collaboration in turn with fellow Dominos Radle and Gordon, one of the best rock rhythm sections ever, resulted in songs and records we're still enjoying and talking about today.
That the musicians were all doing heavy drugs makes their body of work all the more remarkable, and we're left to wonder how it might have differed, if at all, had they played it straight.

After D&D's demise in spring '71, partway through sessions for a second album, this time in the U.K., Whitlock embarked on a solo career that produced four Southern roots-rock albums few people ever heard.
His eponymous debut in 1972, recorded with his fellow Dominos (minus Allman) got the best response; "Raw Velvet" later the same year (produced by Jimmy Miller) included awesome Rick Vito slide work on "Dearest I Wonder." Signing a new deal with Phil Walden and Capricorn Records, Whitlock released "One of a Kind" in 1975 and "Rock Your Sox Off" in 1976, the latter produced by Paul Hornsby; neither of which went anywhere.
After that, Whitlock laid low through most of the '80s and '90s, living on a farm in Mississippi, raising a family and occasionally guesting with others on record and onstage, before returning with a fourth solo album, "It's About Time," in 1999.
There were spells in Europe (including a 2000 reunion with Clapton on Jools Hollands' TV show), Nashville and elsewhere, connecting creatively and romantically with Delaney Bramlett's ex-wife CoCo Carmel, a singer, songwriter, musician and producer in her own right, and moving to Austin to start a new life. So Whitlock's not only still active as a musician, songwriter and recording artist, but is also a published author.
Clapton's career has fared and been documented much better. He was off the scene in 1972, nursing a broken heart (the object of his affection, his friend George Harrison's wife Pattie Boyd, turned down his advances) and a heroin habit, when the "Layla" single (with piano coda) and the original album finally took off. 
Upon their initial release in late 1970, the album and coda-less "Layla" single essentially had been ignored. Clapton was still holed up at home in England in 1973 when the D&D "In Concert" double album from the band's 1970 Fillmore East sets was released, and as Whitlock was struggling to find his own way.
By early '73, thanks in no small part to EC's friend Pete Townshend dragging him back from the living dead to play a concert at the Rainbow on Jan. 13, Clapton was cleaning up and coming back into the public eye. In his mind, the Dominos were history by then; ready to finally resume his solo career, he reconnected with the Alberts and a new band, including Radle; Jamie Oldaker, Dick Sims and Marcy Levy from Bob Seger's 1973 band; second guitarist George Terry; singer Yvonne Elliman; and percussionist Sergio Pastora.
They recorded "461 Ocean Boulevard" with the Alberts at Criteria in 1974. Clapton titled the album after the beach house where he lived during the sessions, which was leased by the studio and a welcome alternative to hotels for visiting rock star clients.
A couple of enterprising local girls, Cindy Johnson and Jeri Jenkins, who coincidentally went to the same high school as Ron and I (Cindy's grandmother was my next-door neighbor in North Miami) established a sister company (you should pardon the expression) called Home at Last. Cindy and Jeri took care of everything from food to transportation to entertainment for artists in Miami to record at Criteria.
"When Eric did '461…' he was just off heroin and had been living on a farm and was very sweet and sober for a while," Johnson wrote me last week. "He used to come over to Jeri's and my house ALL the time and hang out if he wasn't in the studio. He was kind of lonely. We would take him to the movies at the 163rd Street mall and all kinds of normal things like that. He took me to a record store to buy me a Robert Johnson album and he got kicked out cause he had a Coke and wouldn't throw it out."
Johnson added she had a "million stories like that." She's done quite well in real estate on the Florida East Coast since her Home at Last days; I hope to get her to share some of those million stories with us soon.

With a hit single version of Bob Marley's "I Shot the Sheriff," "461 Ocean Boulevard" relaunched Clapton's career. I'd seen him play several times from Cream in 1968 to solo from the mid-1970s through the '80s (but not with the Dominos), but met him only once.
It was a taping for a Cinemax blues TV special at the Ebony Showcase Theatre in L.A. on April 15, 1987. I was a radio programming writer/producer at Westwood One and covering music, TV and movies on "Earth News Radio." An intern I'd worked with at Elektra/Asylum Records several years earlier was by then an HBO publicist, and she invited me to be among the studio audience (thank you, again, Mara Mikailian, later HBO's head of PR).
The show was "Cinemax Sessions: A Blues Session with B.B. King and Friends," and I was parked in the second or third row in tiny bleachers crammed with maybe 75 other people being thrilled by B.B. and Lucille, Clapton, Paul Butterfield, Stevie Ray Vaughan, Etta James, Albert King, Gladys Knight, Dr. John, Chaka Khan, Billy Ocean and Phil Collins. They jammed in varying configurations on a handful of blues classics.
(Full circle: Ken Erlich produced the show; he just produced the 2012 Grammy telecast, and the all-star blues jam at The White House for POTUS Barack Obama and FLOTUS Michelle Obama, when the president threw down a few lines from "Sweet Home Chicago.")
During a break in the "Blues Session" taping I was outside the small studio's back door, by the stacks of equipment cases, getting some air when Clapton came out to have a ciggie. Standing there, we had a three-minute chat, delayed only by my temporary inability to operate my tongue as he lit up.
Finally, I managed to impart that I'd been an early Yardbirds fan and had seen Cream's farewell gig at the Forum in Inglewood in October '68. He laughed. "That was all a loooong time ago," he said. He was cool about hanging out and put me at ease. He might have mistaken me for a member of the crew. Whatever. I also mentioned my favorites of his stuff were "Let it Rain" and "Layla."
He thanked me and signed the back of my after-party invite just as we were all called back into the Ebony to tape the next segment. In all my years in the biz, that was, unfortunately, my only direct encounter with EC.
All the above was playing back vividly on my mental widescreen when to my immense surprise and pleasure a reply to my Facebook message to Whitlock boinked in. He responded to my "let's talk sometime" Hail Mary with, "Anytime Stephen — BW." 
We exchanged a few more notes to set up a phone interview a couple of weeks later, after I'd read his best-selling autobiography, which of course I did over the year-end holidays, along with several other related books and blogs covering events during the "Layla" period from other perspectives. I spent a lot of enjoyable time on the Steve Hoffman Music Forum thread that led to Whitlock's book, too.
As I read, I also re-listened to a healthy sampling of the era's related music, including the "Layla" 40th-anniversary reissue with second D&D album outtakes, the "Johnny Cash Show" live cuts, and all the live stuff from the Fillmore East concert (thanks, Uni PR folks), a raw affair with many moments of brilliance at the bitter, exhausted end of what turned out to be the Dominos' only U.S. tour.
And CoCo graciously sent me more than a dozen photos from Whitlock's archives, with their permission to include them with this Q&A.
Now, if you're looking for great literature, "Bobby Whitlock: A Rock 'n' Roll Autobiography" ain't it. But it's quintessentially rock 'n' roll. The reader who suspends expectations of eloquence will find the narrative simple and down-to-earth, and so gripping, the book is almost impossible to put down.
Whitlock fills in many blanks in fans' knowledge of what was going on behind the scenes with all these guys and all these historic sessions and events from the late '60s to the mid-1970s. After riding along with Whitlock during his entire hair-raising journey, the reader is left informed, enriched and exhausted.

Whitlock's collaborator was Marc Roberty, author of approximately 30 rock books including several Clapton biographies, who served as the developmental editor, helping to put the remarkable stories Bobby was writing into chronological order over a 17-18-month period, without muffling the author's own voice and style.
Whitlock and Clapton have reconnected in the past few years. EC contributed the foreword, which reads, in part: "It was a golden period for us all: I finally belonged to a band formed of musicians that I totally respected, and I truly felt that I had to work to keep up with them. We made sweet, tough and soulful music, and the future looked good. It was during this period that I learned what little I do know about writing songs, and most of that I learned from BW…. Our ride was fast and dangerous, and in the end it chewed us all up pretty badly, so that by the time people had figured out who they were, we were long gone… The day of our great reunion glimmers now and then, although it hasn't fully happened yet, and of course it might not ever come to pass, but never underestimate Bobby Whitlock."

Published in trade paperback by McFarland & Co. (Jefferson, N.C. and London) on Dec. 17, 2010, Whitlock's autobiography has received more attention and sales than the author ever imagined. It reigned at No. 1 for 14 months on Amazon.com's Kindle Rock Music book list and is still there as of today. The paperback is also Amazon's No. 2 Music Biography right now, after months at the top of that category. Of the 99 reviews written by readers to date, 93 of them are five-star raves, and another four reviewers gave it four stars. And a Google search turns up a ton of press about it. 

What actually sparked Whitlock to write his autobiography in the first place, and a life-changing event he recounts at the end, are things I won't give away here, but both resulted from seemingly random, coincidental occurrences and could easily have never happened at all.
When Whitlock and I connected on the phone on Jan. 6, at high noon Texas time, I had 10 pages of questions (knowing I'd be golden if I could get 10 percent of them answered) and he was in good spirits and ready to talk.
We jumped right into the deep end, covering his rough childhood; his intro to music as a toddler; early musical apprenticeships in Memphis and at Stax as a teen; his stint on the West Coast with Delaney & Bonnie and Friends; meeting and becoming friends with Eric Clapton; the saga of Derek & The Dominos, from their earliest woodshedding at Clapton's estate in England through the band's explosion in a British studio less than two years later; and a little about hanging out with the Stones during the "Exile on Main Street" sessions in France, and playing uncredited.
After what seemed like no time at all, Whitlock asked, "Hey, can we wrap this up soon? I'm getting a little tired…"
Looking at the clock, I realized we'd been talking for an hour and 45 minutes. Holy _____! And we hadn't really gotten into his post-Dominos solo career, his meeting and eventually marrying Carmel, how they bounced from Nashville to Switzerland to Austin; how he finally got sober in 2002; and the music he and CoCo have collaborated on.
"Lovers" was their first duo album, out in 2007. They also recorded with Willie Nelson at his studio outside Austin a few years ago.
Nelson played on a couple of Whitlock/Carmel tracks, "True Love" and "Dear Veronica," the latter penned by Whitlock and Clapton, and inspired by film noir beauty Veronica Lake. Since my wife and I had named our daughter Veronica in homage to Ms. Lake 24 years ago, and I'd first met Willie in 1975, the coincidences were things I wanted to touch on as well, just for grins.
There's also CoCo's first solo album, 2010's "First Fruit" (she wrote, sang, played guitar, sax and more, and produced), the duo's weekly Sunday night residency at the Saxon Pub in Austin (search "whitlock" on YouTube for videos), and their just-released "Esoteric" album to talk about. Carmel also produced those sessions, which feature the two of them singing a brace of new originals and playing various instruments, backed by drummer Brannen Temple. Roberty wrote the liner notes.
But Whitlock was exceptionally generous with his time and forthcoming in his responses, and I will always be grateful. Still, I hope to catch another 10 minutes or so with him to preview the rest of his remarkable rock 'n' roll story, as detailed in the latter chapters of his book.
Meanwhile, Part 1 of our Q&A follows; more segments will come in future posts.
Bobby Whitlock: My time is yours. It's a beautiful day here in Texas.
Stephen K. Peeples: Well, thank you. It's beautiful here in California, and a real pleasure to talk with you, after all these years of enjoying your music.
Whitlock: Thank you for taking the time out of your life to read about mine, man. That's very cool.
Peeples: Well, your "Rock 'n' Roll Autobiography" was one hell of a read. I couldn't imagine growing up under the same circumstances as you, and how it would have affected me, even after breaking out of there, as you did. Like it has been for so many, music was your ticket out of poverty, but you never forgot your roots.
Whitlock: Yeah. What I took with me when I broke out of it, I think, is an important matter. I didn't realize the significance of all of that until it started being applied in my later life. (As a child) I was toting water in a bucket down a half-mile long cotton row, and hearing those people calling and singing for me. It was awesome music, soul music, really. All of the influences I had as I was coming up — didn't really think about them, but they came along with me. Some of them weren't as bright and pleasant, as you know, but the better part of it is what I brought along.
There were some things that didn't make the book. It was turning into a very, very long book (laughs), and some of it just had to be cut down, or it was going to be as long as Keith (Richards'), or longer. I think we had about 476 stories or so. What Marc Roberty would do is, he would just kind of open the door for me: "And what happened here, when this went down, Bobby?" And then I would just write about it. He would categorize all the different stories I was writing as I had this cathartic experience (of finally getting the stories out), and compiled it. He gave it the flow and made it sound like I knew what I was doing when I didn't.
Peeples: It's almost kind of like sequencing a record. You record the individual tunes in a certain order for whatever reasons, and then later you figure out the way they're supposed to flow.
Whitlock: That's a good way to put it, man. This is really new to me, and I never thought to identify it like that. It is — it's just like sequencing a record, and that is so dadgum important to give it its flow, you know?
Like the "Layla" record. It carries you. It takes you on a ride, on a musical journey. A really picturesque musical journey, that particular record. Writing my book was a picturesque journey, for sure. I've read it a couple of times for different reasons, and what isn't there is what amazes me. There's so much.
But there's so much to everyone's lives they're not bringin', and especially when you turn about 60 or so. I didn't realize I'd been carrying all that around. I didn't realize I was the messenger, that I was going to be the one who was to make all of this information available. I never wrote it down — who played what on this and that. Never did.
I don't know if you did this or not, but when I wrote the song-by-song on "All Things Must Pass" and the "Layla" album (for chapters of his book), I put the records on. It really just made it come alive.
Peeples: Absolutely. I have probably eight or nine of the albums that Delaney & Bonnie and Clapton and Harrison and Derek & The Dominos did during that period, so I've been listening to them on my old vinyl albums and the CD reissues pretty much steadily again for the last month or so. My wife is amazed at all the deep tracks that never get played on classic rock radio, with the exceptions of "Layla" and "Bell Bottom Blues."
Whitlock: That's some good food, isn't it?
Peeples: It's very satisfying food, I'd say. But it also still leaves you wanting more.
Whitlock: Yeah, yeah. Talking about Delaney & Bonnie and Friends and all those records… I don't have my ear to the ground of the modern music scene, but sometimes you can't hardly get away from what's going on. But there's some of us who are doing what we've always done, and we're just better at it now.
We're champions of that era — that was a really beautiful, creative era. All that music was so organic. No one had to try to do anything, to try to make anything happen, because it was just happening without any effort. All you had to do was just kind of fit yourself in that slot where you belonged, and listen up, pretty much. And everyone was doing that. It was like a revolving door of creativity. There's so many people comin' and goin', people in and out of the throng — but always there. Pretty amazing, suddenly just showing up with a song — Dr. John, just showing up with a song.
Really, what's not in my book is what's amazing to me, because for every story that's there, there's probably eight or 10 more that aren't.
Peeples: Why don't you drop a couple on us that you would have liked to have seen in the book?
Whitlock: Well… really, I'm happy with everything that came in there, but some of them are about the abuse I endured when I was a boy. That's a book unto itself. When I started putting things down, it was a healing experience for me. But we had to refuse a lot of things. I figured this might be the only (book) that ever happens, and I wanted this one to be of integrity and not just drag everybody through the mud. Anybody can do that, anybody can talk about sex, drugs and rock 'n' roll and misfortune. No, there's more to my life than that. All of those things are just a part of one chapter in my life. So there were things, like Marc says, that might be factual, might be a good story, but don't make good literature.
But there was a time when I was eight years old. I remember it well; the other day, I was reflecting on this. My dad is no longer on the scene, and he left some years ago. There was a place, Bull Shoals Dam, in Arkansas near Blanchard Springs. There was this beautiful lake, and we went there, just to do a little family thing. My dad was a smallish man, like just about 5′ 1". Nobody's ever been a hugger — a hugging family. Nobody ever really did any of that. My aunts and grandmothers did, they always had me up in their arms, but not my dad. He would hug other people, but not me, for some reason. My sister, yes, but not me for some reason, and I could never figure it out.
We walked out onto this pier, this boat dock. I (remember it) as clear as a bell. We got to the end of the ramp, and he picked me up in his arms, and I thought right then, "Wow. How wonderful." My dad finally put his arms around me and was holdin' me. And with that, he tossed me in the water.
I couldn't swim, so I sank like a stone. I could still see him (above) as I was (sinking) out of view. I hit the bottom and righted myself and pushed myself up real instinctively, came up to the surface and started breast-stroking.
Too many hard-hitting stories like that. I could go on and on…
(My father) was so confused in his life, and he never quit doing all those drugs and stuff, but he was a preacher and everything. So, he was having a difficult time figuring out what the hell it was that he believed in and what was true for him.
He was supposed to be a preacher and a man of God and all of this (but was) abusing his wife and his children behind closed doors, and it was very confusing for my dad. He was trying to figure out, "What is this book, the Bible?" He was supposed to be imparting all of this spiritual wisdom to the masses, but he didn't understand it himself.
He had a very difficult time with just his own life, and he wanted so to believe what he thought was in there, in the Bible, but it just did not tally up with him. He had one bad experience after the next.
And that was all the way up in my adulthood. What it amounted to was me, in being abused as a child, was that I grew up in fear. Literally, fear.
And I still deal with anxiety attacks, panic attacks. I have to recognize when they come up, and that it's just old, old stuff from decades ago. We still carry that stuff around, unbeknownst to us, and It surfaces from time to time. That fear thing — I dealt with that until I was about 33, and I had children of my own. And then it just hit me: that (fear) was just an image in thought. It was like a picture on a movie screen; it couldn't hurt me at all.
I was telling CoCo the other day — I have some cowboy boots that belonged to my dad, and I had put them away. I went and got them and showed them to my sister, and they were size 4½. I told CoCo, it was amazing that I let somebody who actually fit in these boots intimidate me until I was a grown man with children of my own.
Peeples: That's pretty amazing, Bobby, and a testament to your inner strength that we're talking about it today.
Whitlock: We learn from all of these things, hopefully. I have family members who still resent and carry these burdens. This is like taking a big drink of poison and expecting somebody else to die. You've got to let go of all these things, or they will, in fact, eat you alive.
Peeples: Roger that. Let's get into the music. Would that be okay?
Whitlock: Sure! Because that's really happening in our world now.
Peeples: You touched on it a moment ago and detail it in your book — tell our readers a little more about your earliest exposure to music through your family and your neighbors.
Whitlock: Well, my first exposure to music was like I said, when I was working in the fields and they'd be singing, calling for me, "Hey, little water boy, bring me a drink of water." And my dad, he always chose some fallen-down church out in the middle of the cotton or bean field somewhere, and gospel singing was always in the house and it was always around. The black churches were just always down the way from the white churches out along the gravel roads back in Arkansas, and those are the ones I would always sneak off and go to — real singing. So, I've always been exposed.
My family, my Uncle Troy (mother's brother) played flat-top guitar and mandolin up till the day he passed, and my Big Mama (maternal grandmother) played a Dobro, the big Dobro that I have right now. She would set me on her lap when I was a baby, and I remember not being able to put my arm over that, and I've got that guitar now.
So, singing and playing has always been important in my life, and it still is. I have a real soul music and gospel background, and I was the first white artist to sign the Stax HIP label, their attempt to cash in on contemporary pop.
Peeples: Tell us how that happened, how you came to the attention of those guys and landed a deal.
Whitlock: Well, I had a band, The Counts, and we were playing around all the nightclubs in Memphis. At that time, 1965, '66, '67, it was the place to be. The music was going on 24/7 like Austin is today. The town was all about the music goin' down. You could go somewhere else at all times in Memphis — 2:30 in the morning and hear great jazz or blues being played. I grew up with all of that, so (my band) was doing all the stuff that came out of Stax.
We did "Expressway to Your Heart," by an American band called the Soul Survivors, and "I'm a Man" and "Gimme Some Lovin'" by the Spencer Davis Group. And some of The Beatles' stuff was way cool, like "Paperback Writer" — that was way, way cool stuff. They had some very cool stuff.
But I wasn't into The Rolling Stones or Beatles or anything like that. I was into soul music that was coming out of Memphis, Tennessee, out of Hi Studios, Al Green's place, Willie Mitchell's place where Al Green did all of his stuff, Stax Records and American Studios. They're in Memphis. Something was always going down there.
There was always somebody great coming through town on the road. Like (Atlantic soul producers) Jerry Wexler and Tom Dowd's in town, bringing Wilson Pickett, The Staple Singers. I always knew who was coming and who was there, and was always ecstatic because they would always come to my band's gigs because we did all of the material that came out of Stax. So, (bassist Donald) "Duck" (Dunn) and Steve Cropper and those guys, Booker T. & The MGs, they would come.
We were playing the Cabaret Club down on Highland and Southern with our little rock 'n' roll band, doing "Knock on Wood," "Midnight Hour," "Tell Daddy" and stuff. Way, way cool stuff. And they would come and sit in with us.
Eventually, they wanted me to start (recording) with their new HIP label, because they wanted to get in on that English Invasion, but they wanted me to be something other than what I was and am today. I sing and play today like I did then, except I'm just more experienced at being real simple. I try to make it as easy on myself as possible, not singing any hard lyrics that go over my head. I'm just staying in my own depths so I don't drown. (laughs)
But it's all right — I learned from the best. I'm probably the only person in the world that actually had hands-on guitar instructions from Eric Clapton and Duane Allman and Delaney Bramlett and George Harrison, that's for sure. Where they'd say, "No, Bobby, put your hands here, it goes like this."
When Eric and I started writing songs together, that's when I was just really just beginning to start playing guitar effectively, as a tool to write songs, rather than something that I expressed how I was feeling. I didn't know but like three chords, and there I was, sitting with Eric Clapton, and my first song we wrote was "I Looked Away," and that's no simple song. (The track leads off the "Layla" album.) So I learned some new chords right away with Eric, all these open tunings and stuff, like the open D on "Any Day" (another "Layla" classic") — pretty amazing stuff.
Peeples: Absolutely. Well, I want to get into that a little bit later, but I'd like to rewind just a bit and get back to the Stax scene, where you got to hang out and be a fly on the wall and…
Whitlock: Oh, a whole lot was going down there, and I remember Stax when it was still… The board — it had four great big black RCA knobs for the volume, and I can still see Steve Cropper, with his left arm laying on the top of them, moving it to the left, fading all four at the same time, and it went down to a two-track and then on to a pressing machine, right then. And that was a four-channel board. They had an eight-track machine sitting in the corner.
So, the entire recording process actually took place (there)… Like (songwriters Isaac) Hayes and (David) Porter, "Hold on, I'm Coming" — David was in the bathroom and Isaac was standing out there, getting ready to go somewhere. Isaac was getting impatient and he says, "C'mon, man, c'mon, we're going to be late!" And (Porter) says, "Hold on, I'm comin', man!"
Wow! They write the song right there, and then they got MGs right there, and Sam (Moore) & Dave (Prater) were there, so it's recorded right then and there. That whole process took place right there in those four walls, in that theater called Stax Records. And I got to see all of this go down.
When The Staple Singers came to town, that's when I met (Atlantic Records') Ahmet Ertegun and Tom Dowd, 'cause Tom was one of the premier engineer-producers. Any time those guys were coming to town, everybody knew about it beforehand.
Ronnie Capone was the guy who really got that Stax sound and translated it down from the studio onto the tape. He's the one… I don't think people give him credit. He's not around anymore. He was a smallish guy as well, but a wonderful, wonderful guy and friend for as long as I ever knew him. I never remember him when he didn't have a smile on his face, happy to see me. But, he got a great sound. He did some stuff with me.
As a matter of fact, it was out in California, when Village Recorders was just opening (in West Los Angeles), they had hopsack on the wall. I recorded some stuff in there with (drummer) Jim Keltner and Tim Drummond on bass and (guitarist) Steve Cropper and myself, and I had Ronnie as the engineer because he got that great sound. Went out into the drum room and listened to Keltner as he was getting his kit set up, and he was telling Ronnie, "I want it to sound just like that, inside there" (meaning in the control room), and Ronnie said, "No problem." And it did, too. There's so much I learned from being there.
Their idea at that time, we're talkin' like, 1967-68, they wanted to get in on that English Invasion, the pop scene. The pop scene then was like Herman's Hermits and Freddie & The Dreamers, and some of this outrageously pop-ish stuff. And here I'm getting ready to record with my heroes, and they come up with stuff like, some silly songs for me that were just way, way, not me, not what I was doing. I was singing rock 'n' roll and rhythm & blues, and they wanted to give me some kind of bubblegum stuff. So, that was not going to work.
Then along come Delaney and Bonnie.
Duck brought them out to see us at the Cabaret Club, and there they were out there, and I'm up there on the stage, doing my thing, singing "Tell Daddy" or something. After the set, I went out and talked to them and they said they were putting together a band, wanted to know if I'd be interested in coming (to California).
I hadn't been any further (west) than Texarkana in Texas, so I said, "Hell, yeah!" right there in front of Duck and everybody. And so I was gone in two days after that. We started Delaney & Bonnie & Friends, just Delaney and Bonnie and myself.
In Part 2 of our exclusive Peeples Place Q&A with Bobby Whitlock, we'll pick up the story as he splits Memphis to join Delaney & Bonnie in Hawthorne, California, and helps launch the band and record its first album, "Home," in 1967.

---
Santa Clarita journalist and Grammy nominee Stephen K. Peeples was raised by career newspaper journalists and music-lovers in Miami and Los Angeles. He earned a Grammy nomination as co-producer of the "Monterey International Pop Festival" box set with Lou Adler and Geoff Gans (Rhino/MIPF, 1992). • Peeples was the original, award-winning producer of "The Lost Lennon Tapes" radio series for Westwood One from 1988-1990, and writer/producer of hundreds of WW1 programs in the preceding five years. • His first music industry gig was as an Associate Editor at Cash Box magazine in Hollywood in 1975. He went on to be a Media Relations-PR executive for Capitol Records (1977-1980), Elektra/Asylum Records (1980-1983) and Rhino Entertainment (1992-1998). • Moving online, he was Rhino's first web editor (1996-1998), then elevated to content editor of Warner Music Group websites (1998-2001). • In the Santa Clarita Valley just north of L.A., Peeples was the award-winning Online Editor for The Signal newspaper's website from 2007-2011, and wrote-hosted-co-produced SCVTV's WAVE-nominated "House Blend" local music TV show from 2010-2015 (archived online and still airing in reruns). • He is now a News Editor at SCVTV's SCVNews.com, SVP/New Media Emeritus for Rare Cool Stuff Unltd. and developing a biography of Texas Artlaw Boyd Elder. • For more info and original stories, visit https://stephenkpeeples.com/. For exclusive behind-the-scenes interviews, subscribe to Peeples' YouTube channel. [updated 080220]
---
Article: Spotlight Q&A with Domino Bobby Whitlock, Pt. 1: Intro & Stax
Category: News and Reviews
Author: Stephen K. Peeples
Article Source: stephenkpeeples.com