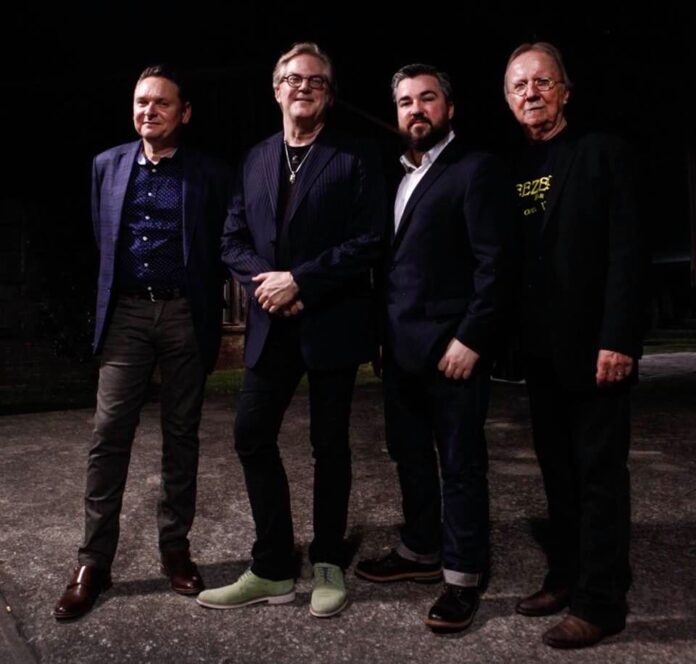 Herb Pedersen, one of the pioneers and legends of folk-rock, country-rock, and contemporary bluegrass, is happy to be back on the concert stage as of July 2021, after more than a year off no thanks to the pandemic.
The lockdown "has been deadly for everybody who plays music professionally," he said in a late February 2021 interview with this reporter, which follows below.
As a longtime member of the John Jorgenson Bluegrass Band, aka J2B2, Pedersen tuned up his guitar, banjo, and signature high-lonesome vocals for their return show at the Maverick Saloon in Santa Ynez on Wednesday, July 28 (part of the "Tales From The Tavern" series).
Also featuring Patrick Sauber (acoustic guitar-vocals) and Mark Fain (bass), J2B2 is led by John Jorgenson, the Grammy-winning guitar-slinger and multi-instrumentalist who's recorded and/or toured with just about everyone from Earl Scruggs to Tommy Emmanuel to Bob Dylan to Elton John, and who also fronts three and sometimes four other popular bands playing different styles, from Gypsy jazz to alt-rock.
Read SKP's exclusive interview 2021 with John Jorgenson.
"First gig we've had since the pandemic started," Pedersen said in a social media post before the Santa Ynez show.
"Thanks to all who came to the Maverick Saloon last night," he posted Thursday. "Beautiful night, amazing food, and the band kicked it. … Nothin' like a flathead 5 with 10s on the outside."
J2B2 performed a free concert outdoors at the Redlands Bowl in Redlands, Jorgenson's hometown, on Friday night, July 30.
"Played the Redlands Bowl…6,500 in attendance. No masks," Pedersen posted Saturday. "People are confused, and I don't blame them. The stage was at least 20 feet from the audience so we were good. Can't wait for this new virus to be controlled."
Here's a clip of J2B2 on Music City Roots' "Live From The Factory" on May 10, 2017, performing Pedersen's "Wait a Minute" – a song lamenting the imminent departure of a loved one who's about to go back on the road, and taking on new meaning in the moment.
♦ ♦ ♦ ♦ ♦
Herb's Hundreds of Credits
Pedersen's a much-respected veteran of seminal groups like Vern & Ray, The Dillards, and Desert Rose Band, and recorded the albums "Southwest" (1976), "Sandman" (1977), and "Lonesome Feeling" (1984) as a solo artist.
Herb's literally hundreds of credits include sessions-roadwork with Earl Scruggs, Emmylou Harris, Linda Ronstadt, Gram Parsons, Rita Coolidge, the Laurel Canyon Ramblers, Dan Fogelberg, Kris Kristofferson, John Fogerty, Ringo Starr, Merle Haggard, Tom Petty, and a multitude of others outstanding in their fields.
Pedersen's also recorded music for dozens of TV and movie scores over the years, among them "The Rockford Files," "Hill Street Blues," "The Simpsons," and "Smokey & The Bandit."
Desert Roses, Hurricanes & Heartbreak
Pedersen and Jorgenson have played together often in various configurations since both were members of the country-chart-topping Desert Rose Band from 1987-1993. The lineup also included Bill Bryson, JayDee Manness, Steve Duncan, and Chris Hillman – who had been a co-founder of The Byrds, the Flying Burrito Brothers, Manassas with Stephen Stills, the Souther-Hillman-Furay band, McGuinn, Clark & Hillman, and more.
Combining country with flavors of Western music, rock, folk, and bluegrass, DRB was a barn-burner onstage and recorded five well-received albums – "The Desert Rose Band" (1987), "Running" (1988), "Pages of Life" (1990), "True Love" (1991), and "Life Goes On" (1993). They also sent nine singles into Billboard Top 10 country hits before Hillman decided the band's race was run.
Check out Desert Rose Band performing "The Price I Pay" by Bill Parker Wildes and Hillman on "Austin City Limits" in 1988, with ripping solos by Jorgenson and Maness:
In 1998, Herb and John co-produced Chris's third solo album, the electric "Like a Hurricane," and seven years later, Herb guided the sessions for "The Other Side," an album of songs Hillman co-wrote with his frequent songwriting partner Steve Hill.
More recently, Pedersen and Tom Petty co-produced Hillman's "Bidin' My Time," an acclaimed solo set that tragically was to be TP's last production.
Hillman, Pedersen, and Jorgenson – essentially the Desert Rose Band minus rhythm section – have performed extensively as an acoustic trio in recent years, pulling favorites and rarities from their wide-ranging, highly influential individual and collective catalogs.
They've also gigged as a quartet, adding DRB bandmate Bryson on bass, then, after Bill's death in April 2017, session-road ace and seven-time Grammy winner Mark Fain, who's toured and/or recorded with Jack Black, James Cotton, Joe Diffie, John Fogerty, Bruce Hornsby, Alan Jackson, Loretta Lynn, Martina McBride, John Oates, Joan Osborne, Dolly Parton, Ricky Skaggs, Jesse Winchester, Mac Wiseman, and Lee Ann Womack.
Fain also co-produced the Grammy-nominated "Rambling Boy: Charlie Haden Family & Friends" album in 2008. He was a key player on Hillman's "Bidin' My Time," and joined Hillman, Pedersen, and Jorgensen to play a packed-to-the-rafters, call-the-Fire-Marshall show at the Troubadour on October 23, 2017, a bittersweet affair celebrating the album's as well as paying tribute to Petty, who had died on October 2.
Hillman, who joined Roger McGuinn and Dwight Yoakam onstage at separate shows in July, is tuning up for a pair of songs-and-stories performances at the Scherr Forum Theatre in Thousand Oaks, California, on Friday and Saturday nights, September 24 and September 25.
The shows will include songs from all the groups Chris has been in, and he'll read excerpts from his memoir while introducing key songs along the way. As at the Troubadour, he'll be backed onstage by Pedersen, Jorgenson, and Fain, who most recently have been touring as members of the John Jorgenson Bluegrass Band, which also features guitarist/vocalist Patrick Sauber.
♦ ♦ ♦ ♦ ♦
Chris & Herb: 58 Years & Counting
Herb Pedersen and Chris Hillman's friendship tracks all the way to 1963 when they were both hungry 18-year-old bluegrass musicians, one from the San Francisco Bay area, the other from San Diego County.
They met midway in Pasadena at a bluegrass festival, and became pals right away, sharing a deep affinity for the music's pioneers and all the country-and-western stars who appeared on popular West Coast TV shows like "Cal's Corral."
Chris and Herb also shared a cheeky sense of humor.
"We're both extremely sarcastic wiseguys, California wiseguys; he's a Northern Californian and I'm a Southern," Hillman said in a separate interview in April. "But we always just hit it off. He's a very funny man and he's ever so talented."
Most of their musical collaborations would come later. The duo's catalog includes two studio albums ("Bakersfield Bound" in 1996 and "Way Out West" in 2003) and the live "At Edwards Barn" album (2010).
Chris and Herb also teamed up with longtime friends Tony Rice and Larry Rice to record "Out of the Woodwork" (1997); "Rice, Rice, Hillman & Pedersen" (1999); and "Running Wild," 2001). All four, in fact, had met in 1963 at the aforementioned Ice House bluegrass festival.
In May 2011, the duo taped a special edition of "House Blend with Stephen K. Peeples," a music-and-interview show on SCVTV community television in Santa Clarita, California, co-produced and hosted by this reporter. (That program was nominated for a WAVE award later in the year; visit scvhouseblend.com for more info about the series).
The following March 31, Pedersen brought his latest band, Loafer's Glory, also featuring Bryson, Tom Sauber on fiddle, and his son Patrick Sauber on acoustic guitar, to the SCVTV Media Center to tape a new show, which premiered Saturday, May 5, 2012.
Pedersen made a third appearance on "House Blend" in early 2015, in a show first broadcast in mid-February. Host and co-producers expecting to tape a renowned solo singer/acoustic guitar player at SCVTV that day were delightfully surprised when Pedersen walked into the studio with John Jorgenson and Bill Bryson.
"Brought a couple friends along," Herb deadpanned as the crew grinned. "Hope you don't mind."
♦ ♦ ♦ ♦ ♦
Herb Pederson on Chris Hillman & 'Time Between'
In an hour-long conversation with this writer on February 16, 2021, Herb Pedersen spoke in more detail about his decades of friendship and countless musical collaborations with Chris Hillman.
The topic was Hillman's memoir, "Time Between: My Life as a Byrd, Burrito Brother, and Beyond," which BMG Books published on November 17, 2020. After the first edition sold out, a second edition followed in early 2021. Signed copies are available here.
Read and see my two-part conversation with Hillman conducted a week later on February 23 and February 25 here and here; my April 27 chat with Chris and Herb's Desert Rose Band-mate John Jorgenson will be posted soon.
The transcript that follows has been edited for length and clarity.
Stephen K. Peeples: I really enjoyed the little acoustic set you and John and Chris played on the book-signing and interview event last November 17, rough as it was. How long had it been since you guys played together?
Herb Pedersen: Gee, probably four or five months.
Peeples: Wow.
Pedersen: Yep.
Peeples: When you're sittin' around the house there, and can't tour, are you pickin' and grinnin' just for your own…?
Pedersen: Stephen, there's no grinning going on, believe me. You know, a few sessions come in once in a while, but [the pandemic] has been deadly for everybody who plays music professionally.
So, yeah, you try to rise above it and try to play your instrument a certain amount of time during the day. But when you know you're not working or something isn't coming in for a long time, it's pretty depressing. I wish I had a brighter way of looking at it, but it's just been so long and it just gets very wearisome.
Peeples: That's the reality, Herb. I don't expect you to sugarcoat it. I just finished editing and proofreading a nearly 500-page book titled "Bring Music Home." It was produced by a group of industry creative types whose livelihoods were also disrupted by the lockdown on live music.
They sent teams of writers, photographers, and videographers out to shuttered venues all over the country, something like 200 different venues in 34 cities, to interview and photograph the people who own and manage and work at them about how COVID has affected them and their livelihoods.
Pedersen: Yeah, it's been pretty devastating, for sure.
Peeples: Well, I really appreciate your taking a few minutes to talk with me about Chris's book. I got it just a few days ago. Have you read it?
Pedersen: Well, I pretty much know the book. I knew the book before he wrote it.
Peeples: [laughs] Right, of course. I have, like, 300 questions…
Pedersen: Sure. Fire away.
Peeples: Thanks – I just want to open by reading a passage from "Time Between." Chris writes: "He's one of my oldest friends from music and is such an incredible guitarist and singer, probably the best I've ever encountered since working with Vern Gosdin and David Crosby in the early days. Having known each other since 1963, Herb and I fit together just like brothers." I thought that was a pretty nice compliment.
Pedersen: Well, I was very flattered he said that and it is true, you know. We've known each other since the days of the hootenannies at the Troubadour on Monday nights and all that.
When we met each other, it felt right, but I didn't really start working with him until he started recording solo albums in the '70s.
He had me come in and play banjo, do harmony vocals, whatever. And I found it to be very easy to work with him because he is such a good singer. He sings in tune and there's really not a lot of hard work involved, just felt really natural.
Peeples: Watching you guys perform and hearing you sing as a duo, it sounds very natural, like you guys were almost brothers from other mothers, maybe.
Pedersen: Right, exactly.
Ice House Bluegrass Festival 1963
Peeples: Let's go back if we could. I know you both and Chris shared with me on "House Blend" back in 2011 the story of how you met, but please recap it for us here.
Pedersen: Well, we think we met at the Ice House in Pasadena when [owner] Bob Stane had a "bluegrass festival." Clarence and Roland White and The Kentucky Colonels were there. A young group called The Haphazards, too. I think Larry Rice was a teenager, Tony wasn't a teenager yet, and their little brothers Wyatt and Ronnie were in the band. There was my band, the Pine Valley Boys, from Berkeley; I think Chris was in The Scottsville Squirrel Barkers [as Hillman writes in "Time Between"].
That festival was the first time I met him. We just hit it off right away. There wasn't really much work to it at all. We liked each other, kept in touch. We'd see each other at different venues around town, 'cause back then, you had a lot of coffeehouses, in the Inland Empire and down the coast, the Golden Bear in Huntington Beach, all the way to San Diego. So there were lots of places to play just in [Southern] California.
Then I found out he got hooked up with The Byrds and all that, and I didn't see him for a long time, a few years, I guess. The next time, I think he had the Burritos and I was with Emmylou and we did a show at Royce Hall [at UCLA] or something. So it'd been quite a while since I had actually sat down and talked to him.
Musical (R)evolution
Peeples: Now, by that time, early '70s, Chris had gone from bluegrass with his early bluegrass groups like the Scottsville Squirrel Barkers and the Golden State Boys through The Byrds' folk-rock, psychedelic rock, and country-rock (r)evolution, and then with the Burritos, he was bringing bluegrass back into the mix. That's quite an arc in less than a decade.
Pedersen: It was a natural progression for Chris. We were raised on bluegrass and folk music and then when the West Coast country music scene really started happening in the mid-'60s we got into Buck [Owens, seen below with Don Rich and the Buckaroos singing "My Heart Skips a Beat" on "The Jimmy Dean Show" in 1966], Merle Haggard, Tommy Collins, Wynn Stewart, and all those guys. It was a new sound of country music we really liked. I'm sure we both collected a lot of those albums back then.
Peeples: And a lot of those guys got exposure on local TV shows like "Cal's Corral" and shows like Jimmy Dean's or Glen Campbell's…where you could actually get to see these people perform even if you weren't old enough to go to a club, right?
Pedersen: Sure. Exactly. And I think Chris and one or more of his bands also played "Cal's Corral" and a couple of other local TV shows.
When I was in the Bay Area, there was a thing called "The BlackJack Wayne Show." He'd have The Maddox Brothers and Rose on a lot 'cause they were living in Northern California at the time. So I got to see them on television when I was just a kid.
Peeples: Just soakin' it all up, processing it and figuring out how to do it yourself, and it comes out you instead of them.
Pedersen: Right, yeah. Somehow.
'Slippin' Away' and Ron & Howie
Peeples: You mentioned earlier that you and Chris didn't really work together until he started recording solo albums. You finally recorded together during his "Slippin' Away" sessions in 1976…[Pedersen sang backup and played banjo on the album-closer, "(Take Me In Your) Lifeboat," also featuring Byron Berline, Bernie Leadon, Leland Skar, and Joe Lala. Herb also contributed backing vocals to another four tunes including the title track.]
Pedersen: Yeah, I also remember Tim Schmit and me doing some harmonies for Chris on a couple of things [the title track and "Down in the Churchyard"]. That was with [producers] Ron and Howie [Albert].
Peeples: Chris told me how the sessions started with Bob Johnston producing, but Chris didn't think it was working. He asked Stephen Stills how to handle it, and Stephen suggested he call the Alberts to come to the rescue. Which he did, and they did.
Coincidentally, I've been in touch with Ron and Howie over the years and most recently for this series of stories about Chris's book. We went to the same junior high school and high school in North Miami.
Ron started working at Criteria Studios in the neighborhood when he was 14; Howard was on board a couple of years later. They later engineered "Layla" [1970] and produced the Manassas albums [1971 and '72] and then the "McGuinn, Clark & Hillman" album [1979], for which I wrote the liner notes.
Ronnie just sent me an email this morning – I told him I'd be talking with you, Herb – and he writes, "Chris and Herb are truly two of the nicest souls in the world. Please send both of them our best."
Pedersen: Oh, my gosh. That's great, thank you.
A Budding Desert Rose Band
Peeples: Can you trace the path between Chris's solo albums and then connecting with Bill Bryson and John Jorgenson and the other cats to form Desert Rose Band?
Pedersen: Well, I got a call to work on a Dan Fogelberg record called "High Country Snows" in '84. We went down to Florida to rehearse, David Grisman, Russ Kunkel, myself, and a bunch of other people. Emory Gordy played bass, Jimmy Buchanan fiddle. We recorded it in Nashville. Doc Watson actually played on a cut or two.
Dan was gonna go out and promote the album with people who had been on the record, so he called Chris to play bass in the band on a tour of the "important cities" for the release of the album.
After that eight-city tour, Dan decided he wanted to do a longer tour, and wanted Chris to open for him in a little bluegrass quartet kind of a thing.
Chris had been working with Bill Bryson as his bass player, and Bill introduced Chris to John Jorgenson. I think John was still working at Disneyland in the Thunder Mountain Boys. Then Chris or Bill called me to make it a quartet, so it was Bill, John, Chris, and myself [seen below in late summer 1986 performing the aforementioned "Slippin' Away" song "(Take Me in Your) Lifeboat"].
We put together a set and would open for Dan, and he would come out later and we would do the "High Country Snows" album acoustically.
And so after that tour was over, John and Chris got together and talked about doing a country record, just plugging in and bringing in Steve Duncan on drums, who'd been working with John – and also JayDee Maness on steel. And so that was the original Desert Rose Band.
I think we kind of rehearsed a little bit, and then played at the Palomino [on February 25, 1987]. It was the night after the Grammys and everybody was still in town, and so some record labels were out there. We got a record deal [with Curb Records, headed by Mike Curb], and we went into the studio.
[Here's DRB on "The Tonight Show" on April 20, 1990, at the height of the band's popularity:]
Peeples: In his book, Chris spoke highly of DRB, that it was the best band experience of his career to this date.
But as you know it didn't really end well. He said he had a lengthy conversation with Mike Curb, who wanted Chris to go into the Christian music arena…and Chris wasn't too happy about that. John had already left by then…
Pedersen: Right.
Peeples: So that was about it for the band…
Pedersen: Well, we'd been together for almost eight years, had a good run, and it was just time to move on and do other things. Since he was the leader of the band, Chris decided to put it to bed. And it gave Bill and me and JayDee a chance to do other things. You kind of go your separate ways for a while and then maybe come back together and do something else in the future.
Peeples: Like the albums you did later with Chris…
Pedersen: Yeah, we did one called "Bakersfield Bound" [1996] which I really liked a lot — that was a real tribute to Buck and Merle and those guys.
Peeples: The whole Bakersfield connection between Chris and Buck and Dwight and you is really strong, and as you've mentioned it goes back to the '60s.
Pedersen: Right, exactly.
Peeples: And then you and Chris recorded "Way Out West" a few years later [in 2003]…
Pedersen: Yeah, Chris was signed by somebody to do an album, kind of a retrospective of country songs we liked. So he and I teamed up as partners and did the "Way Out West" record.
Peeples: I also wanted to ask you about the "gathering of the clan" show in 1990. Chris writes about it in his book. I think it was a benefit for somebody and all the usual suspects were there, including you, but it was apparently the last time that [former Byrds-mates] Chris and Roger McGuinn and David Crosby played together.
Pedersen: Oh, that was the benefit for [musical instrument dealer] Fred Walecki. Yes, that was the gathering of the clan. A lot of people were in town, and that was, I guess, the last time they got together. McGuinn and Crosby and Chris did a few Byrds tunes ["Mr. Tambourine Man" and "Turn! Turn! Turn!"] to the delight of people like Jackson Browne, Don Henley, Bonnie Raitt…a lot of those folks were there. And Chris and I did a little duet thing ["Down at the Old Crossroads"].
Peeples: What a great memory to have!
Pedersen: Yeah, yeah.
Mudcrutch & 'The Other Side' of Tom Petty
Peeples: So, Mudcrutch: How did you cross paths with Tom Petty and wind up recording tracks on "Mudcrutch 2" and joining the band for the reunion tour?
Pedersen: Well, Tom Leadon, Bernie's brother, was working with Petty up at his house getting the Mudcrutch record together. I didn't really know about that at all. I wasn't really a big Petty fan – not that I didn't like him, but I just didn't really pay much attention to that music at that time.
And Tom [Leadon] called me up, he wanted to borrow a banjo to play on one of his tunes. So he came over to the house, and I showed him the banjos I had. He picked one up and started playing, and he was a little rough. He hadn't played in a long time. After about 45 minutes, he said, "What am I doing? Why don't you come out to play it?"
I said, "Well, why don't you call the boss and see what he wants to do?" So he called Tom, and Petty said, "Sure, that'd be great. Have him come out."
I didn't know Petty lived up on PCH near Las Virgenes by Pepperdine. When I drove up there, it was the first time I had seen him since Chris and I did a show at the Malibu Performing Arts Center. Chris was also there a few years prior to that, he and Bill [Bryson]. Dylan was a neighbor of Tom's as well.
So, yeah, I played the banjo on a Mudcrutch track ["The Other Side of the Mountain"]. Then Tom [Petty] asked me, "You feel like doin' some harmonies?" I said, "Sure!" So I did [on that track and "Hungry No More"].
He was just as sweet as he could be, just a great guy.
A couple of months later, I got a call from Tom's manager, who said, "We're gonna do this tour. Would you consider coming out with us?" I said, "Sure!" We went out in May and June of 2016, did a month on the road, and it was great. It was really a well-disciplined show, everybody was professional.
Mike Campbell was great to hang with. When we hit some of these major cities, he and I would go hunt up music stores to see if there were any instruments lying around. Yeah, it was a great tour.
Then when I came back, I was having lunch with a buddy of mine, Pete DeCoste, who's a drummer here in town. He said, "You know, I saw you guys at the Henry Fonda Theatre. I know Chris is thinking about doing another record. Why don't you and Petty produce it?"
I thought, "What a great idea," because Tom grew up with the same kind of music we did in California, but he was in Gainesville, Florida.
Anyway, I called Chris and talked to him. He said, "God, I really haven't thought about doing anything, but do you think he'd want to do it?" I said, "Why don't you call Petty and talk to him?" He did and they did a back-and-forth thing on the phone about, "Do you really want to do this?" and "Yeah, I'd love to do it! How 'bout it?" So they agreed.
Chris had some tunes he wanted to record, and wanted to do kind of an acoustic record. We got up to Petty's place and played the tunes for him, and then, looking at Ryan [Ulyate], his engineer, he said, "What do you think? Do you hear drums on anything?"
"We hear drums on everything," Ryan said.
So, it turned from an acoustic, in-the-parlor kind of record into "Bidin' My Time." We had John Jorgenson come in [on arrangements], and I kind of ran the band, and Tom was in the booth with Ryan, his engineer. So, yeah, we got it done.
Peeples: There's this cool photo of you talking with David Crosby who's sitting on a couch, and Chris is sitting next to him, and Tom is kind of in the background, and you're communicating something to David either before or after a take.
Pedersen: As a matter of fact, I'm looking at it in my office right now.
Peeples: What's going on there? Give me a caption.
Pedersen: Well, you see that conga drum Crosby has his coffee cup on? That was Ringo's. He gave it to Petty. So I'm saying, "Be careful with your coffee, there, Dave!"
Peeples: [laughs] Yeah, right…really?
Pedersen: [laughs] Anyway, I was talking to him about a harmony part. We were doing "Bells of Rhymney." He wanted to do a certain part and I said, "OK, well, let's do it." He went in but then didn't feel comfortable doing it, so he came out and we talked about it some more. Then I ended up doing that part, and he did a different part. So that's what the conversation was about.
Peeples: Then it was a matter of figuring out where each voice should go in the mix. I think you hit the right spots.
Pedersen: Yeah, we did alright.
Peeples: What was it like working in the studio with members of the Heartbreakers?
Pedersen: Yeah. Mike's great. He's very open to suggestions and just being a true professional, and has great taste. Did a wonderful job. Benmont Tench, too. He played keyboards on a couple of things, I think.
Peeples: Obviously, Tom's story doesn't have a happy ending. I managed to see his very last show, at the Hollywood Bowl [Monday, September 25]. Tom's death hit his fans really hard. I only met him a couple of times, and it was tough. I can't imagine how it affected you, and Chris, too. And to find out he'd done that whole last tour with a cracked hip.
Pedersen: Oh, boy. Yeah. We had no idea he was that far gone pain-wise. It was just a terrible tragedy.
Peeples: There was a date with Chris and John and you playing the Troubadour coming up October 16…
Pedersen: Right, because we were gonna have Tom come in and he was gonna get up and sing something with us, I think. Then when we got the news, we just postponed it.
Peeples: Well, it was a great show; I was standing in the front.
So, back to "Time Between" – I know you said you lived the book, but what did you think when you read his manuscript for the first time?
Pedersen: Well, you know I've heard all the stories because I've been around Chris for a long, long time. I knew a lot of his background growing up in San Diego and all of that. He elaborated on certain things I wasn't quite sure I had known, but all in all, it was basically a very true accounting of how he grew up and the people he worked with and all of that. I actually had nothing to do with it. It took him seven years to complete it.
Peeples: Now, one of the recurring themes, and maybe kind of a revelation to people who weren't as close to him as you, was an anger problem he said was rooted in his feelings about his father's suicide. Chris was 16; it took him most of a lifetime to come to grips with that. What was your experience with his temper over the years?
Pedersen: Well, he'd have his moments where he'd get very upset. You just have to kind of roll with it if you're going to be working together. He told me many years ago, "Bands are like a marriage, and sometimes you have great days and sometimes you don't." He's always had a short fuse but he's gotten much better as he's gotten older. He's released a lot of that anger and put it where it should be.
Peeples: What do you think his relationship with [wife] Connie [Pappas-Hillman] has had to do with that?
Pedersen: Oh, I think she's been wonderful for him. As any good wife is, she's very supportive. Like my wife, I don't get away with a whole lot. That's why it works. It's a union. And I think Chris embracing his [Christian] faith has a lot to do with his longevity with Connie.
Peeples: Maybe a combination of his faith, Connie, growing older, the people close to him in his religious community who he's consulted with, and also supportive friends like yourself among the musician community?
Pedersen: Right. Yeah. I agree with that.
Peeples: Where are you guys going from here?
Pedersen: We're gonna hit the road in September [see Hillman's site for upcoming dates].
Peeples: Any final comments about working with Chris over the years?
Pedersen: I think the quality of music has stood the test of time, and I think we work very well together. I really enjoy working with him a lot. He's rock steady. He's always done a good job on stage. The talks between tunes and his playing and singing, it's just always been first-rate. So, I couldn't ask for a better partner.
Peeples: There you go. Well, Herb, thanks so much for spendin' a little time with me today.
Pedersen: Great, OK, Steve.
Peeples: And best to you and Libby. Stay happy and healthy.
Pedersen: Yeah, really. Trying to!
♦ ♦ ♦ ♦ ♦
Find out more about Herb Pedersen at his official website.
Special thanks to Connie Pappas-Hillman and Cary Baker/Conqueroo, and to Rory Aronsky for the transcription.
---
Grammy nominee Stephen K. Peeples is a multi-media writer-producer who was raised by career newspaper journalists and music-lovers in Miami and Los Angeles. He earned a Grammy nomination as co-producer of the "Monterey International Pop Festival" box set with Lou Adler and Geoff Gans (Rhino/MIPF, 1992); Peeples also wrote the liner notes booklet. • Peeples was the original, award-winning producer of "The Lost Lennon Tapes" radio series for Westwood One from 1988-1990, and writer/producer of hundreds of WW1 programs in the preceding five years. • His first music industry gig was as an Associate Editor at Cash Box magazine in Hollywood in 1975. He went on to be a Media Relations-PR executive for Capitol Records (1977-1980), Elektra/Asylum Records (1980-1983), and Rhino Entertainment (1992-1998). He also wrote liner notes for nearly a dozen albums, including "Les Paul: The Legend & The Legacy," Capitol Records' acclaimed 4-CD box set (1991). • Moving online, Peeples was Rhino's first web editor (1996-1998), then elevated to content editor of Warner Music Group websites (1998-2001). • Based in the Santa Clarita Valley just north of L.A., Peeples was the award-winning Online Editor for The Signal newspaper's website from 2007-2011, and wrote-hosted-co-produced SCVTV's WAVE-nominated "House Blend" local music TV show from 2010-2015 (archived online and still airing in reruns). • The Santa Clarita journalist was most recently News Editor at SCVTV's SCVNews.com and SVP/New Media for Rare Cool Stuff Unltd. As of summer 2021, he was developing a biography of notorious Texas Artlaw Boyd Elder. • For more info and original stories, visit Peeples' website at https://stephenkpeeples.com/. For exclusive behind-the-scenes interviews, subscribe to his YouTube channel.
---
Article: Herb Pedersen on J2B2, DRB, Pal Chris Hillman's 'Time Between'
Author: Stephen K. Peeples
Category: News and Reviews
Article Source: StephenKPeeples.com